TWICE's Nayeon Shines Bright In Fantastic Fashion In The Music Video For Her Solo Debut 'Pop'
Nayeon truly embodies her bubbly personality in insanely stylish outfits.
With her EP "Im Nayeon," TWICE's Nayeon has just released one of the year's most eagerly awaited solo debuts. In terms of its infectious hook and chorus, the title track from the album "Pop" is nothing less than excellent. The cheerful and upbeat music video, however, is the cherry on top, in which Nayeon channels her bright nature while wearing obscenely chic attire.
So without further ado, let's take a look at Nayeon's enthralling fashion in the video.
TWICE Nayeon's 'Pop' MV Fashion Look #1
With a gingham cropped sweater and Michael Kors briefs, Nayeon looked stunning. She accessorized with Louis Vuitton's My Monogram Square sunglasses to go with her ensemble.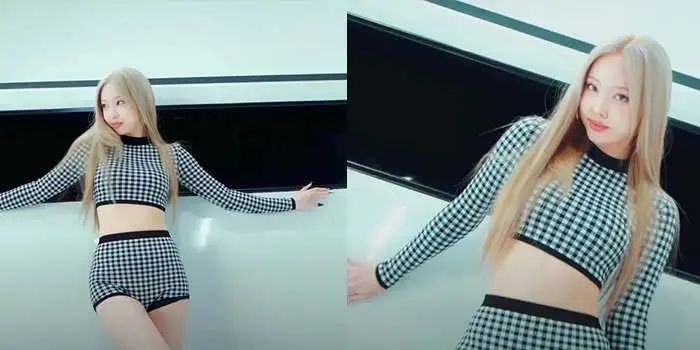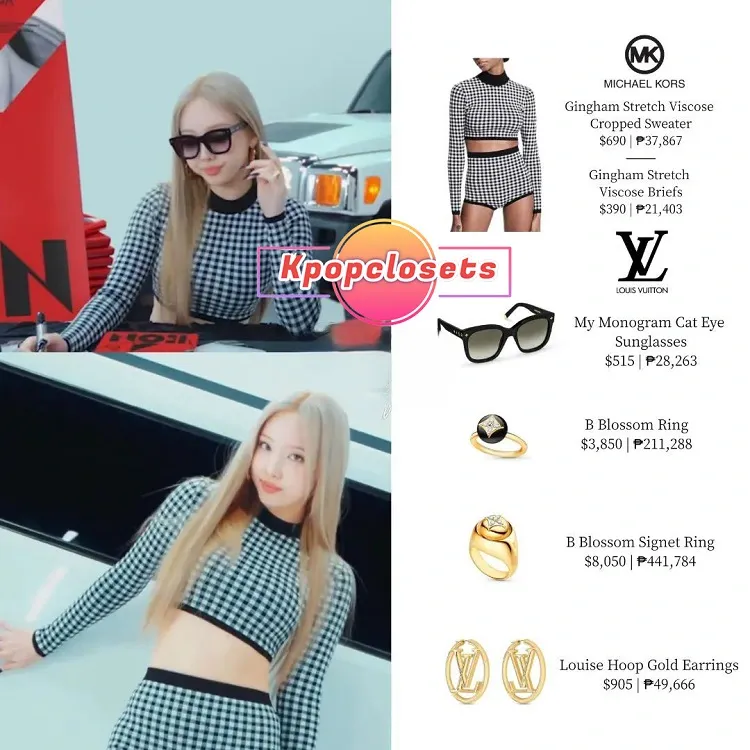 TWICE Nayeon's 'Pop' MV Fashion Look #2
For Nayeon's second look, Her strapless bustier top, which is embellished with delicate guipure lace overlay and corset-inspired accents like tonal piping, serves as the focal point of her regal ensemble. Her wide-leg sheer lace jersey pants balance the hyper-femme emotions while enhancing the romantic attractiveness.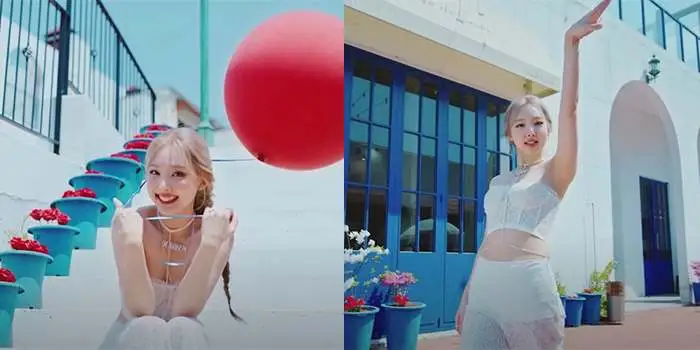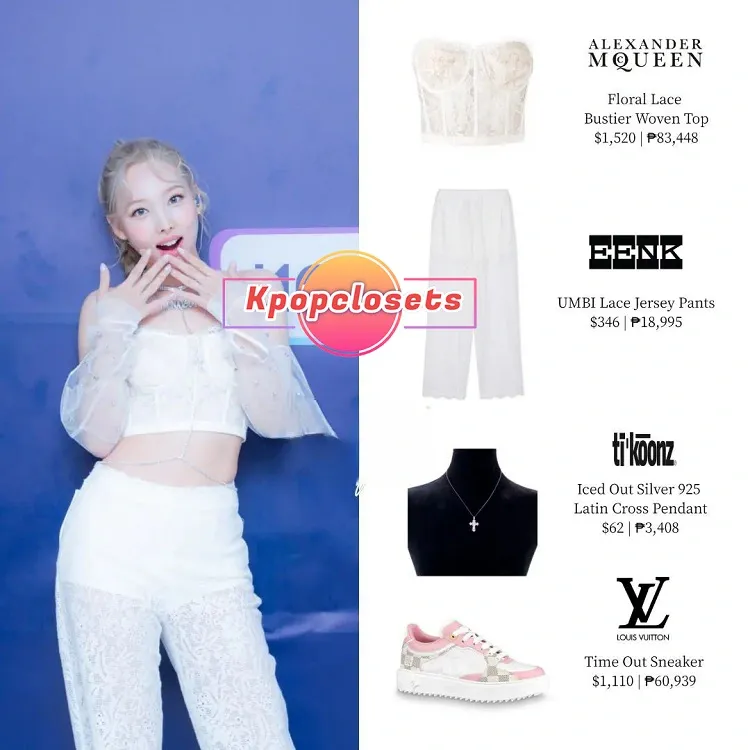 TWICE Nayeon's 'Pop' MV Fashion Look #3
Her adorable Moschino ensemble consists of a crop top, little skirt, and blazer with calico critters. She selected a stunning pair of Giuseppe Zanotti Blasvegas Plat platform sandals for her shoes.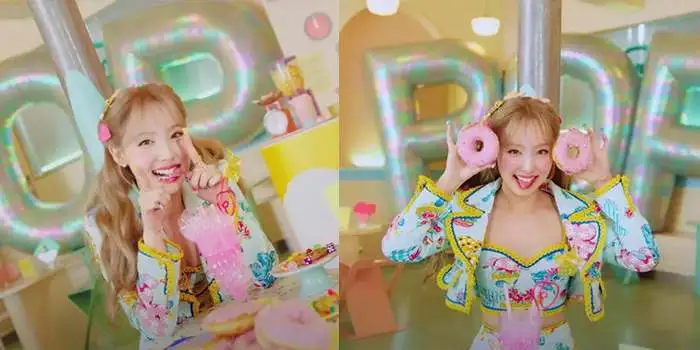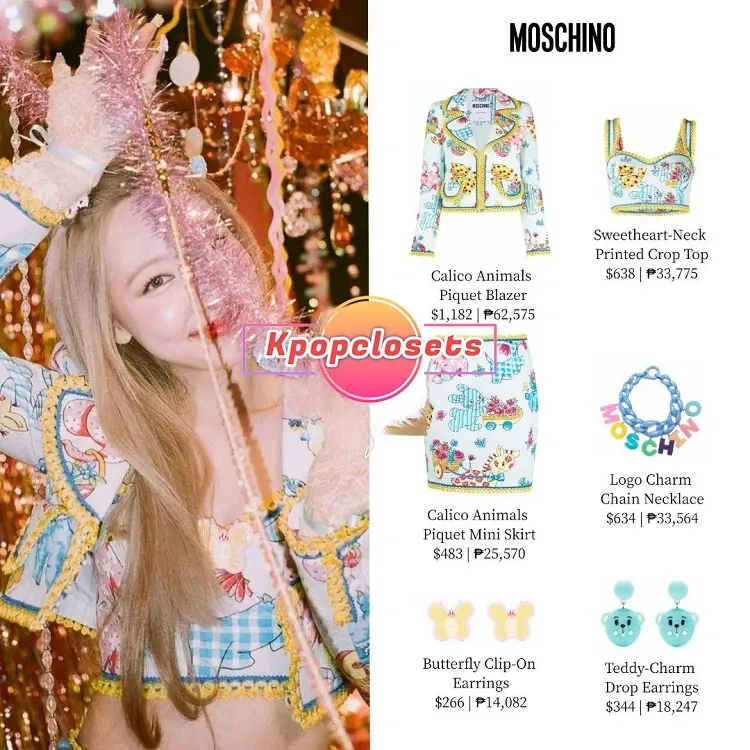 1.Calico Animals Piquet blazer
3.Calico Animals Piquet Mini Skirt
TWICE Nayeon's 'Pop' MV Fashion Look #4
Nayeon dresses from head to toe in vivid red to draw attention to herself. For a strong, confident style, she pairs a camisole top with a pointed neck and hem with jacquard belted mini shorts. Nayeon completes the ensemble with chic sock boots and traditional red lips to exude diva flair. The entire red color scheme of the dress makes her fresh blonde hair stand out.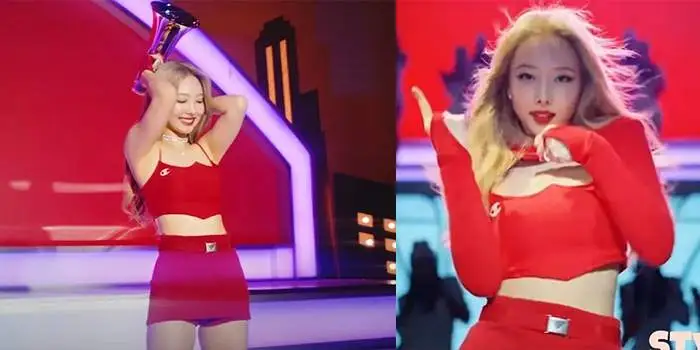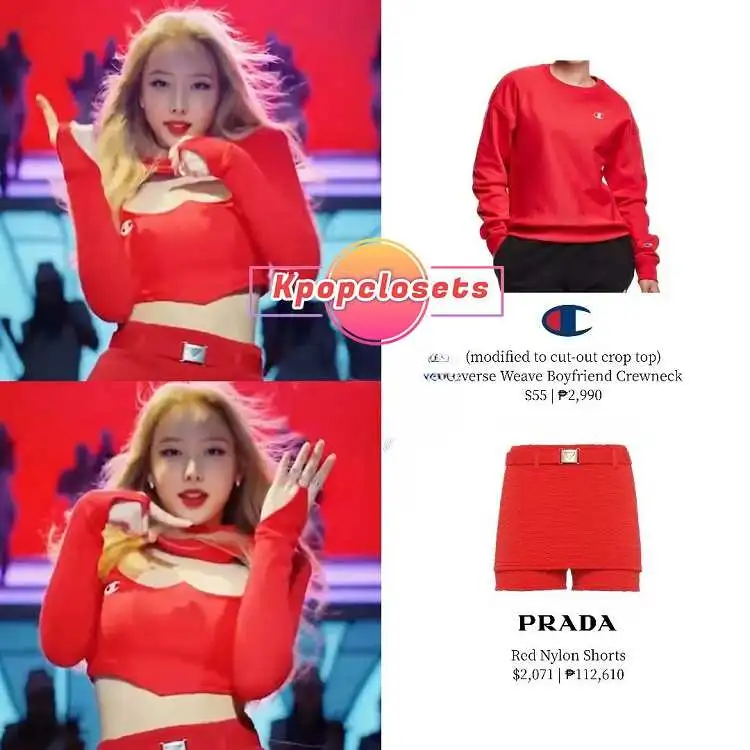 TWICE Nayeon's 'Pop' MV Fashion Look #5
This quirky outfit was achieved with the combination of a crochet & tulle mini dress from Lirika Matoshi and Alexander McQueen's boots.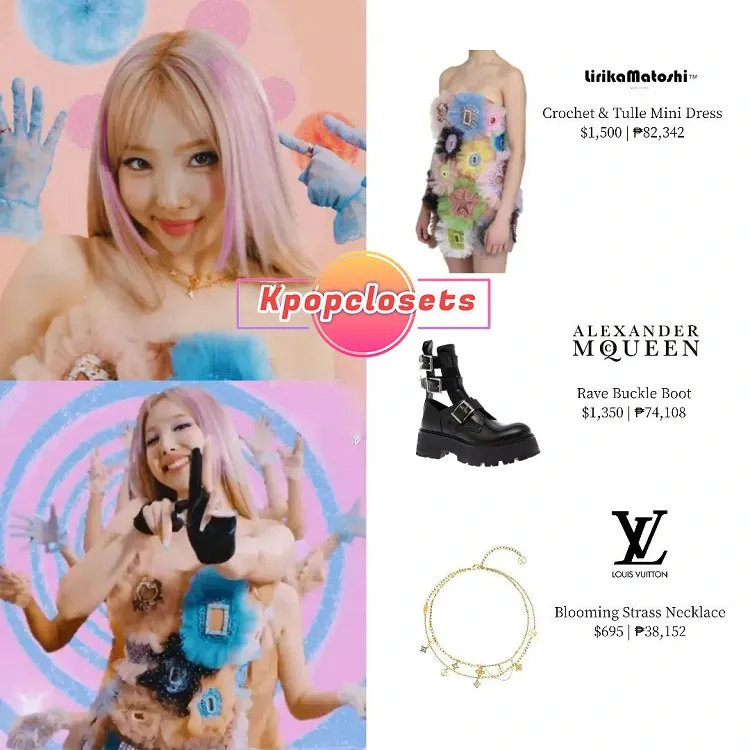 TWICE Nayeon's 'Pop' MV Fashion Look #6
Nayeon's resplendent Y2K set won't disappoint. She wears feather-trim denim shorts to go full-on jazzy. Bold glitter eyeliner and silver hair tinsel add extra shine to the party-worthy look. Looked bright and personable in an embroidered crystal butterfly top and feather-trim mini shorts from AREA.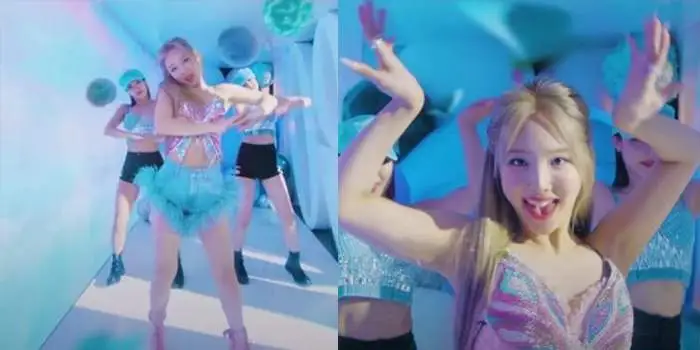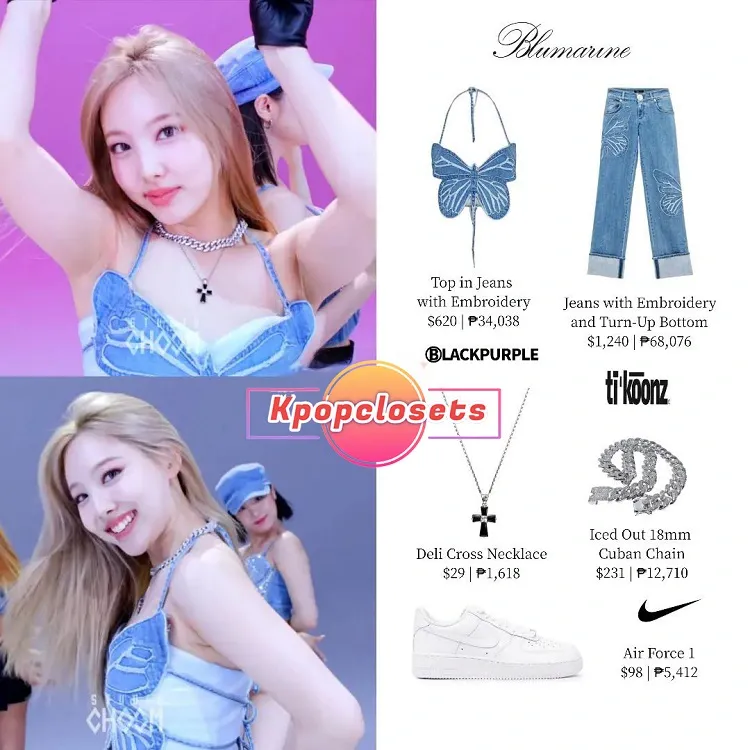 1.Embroidered Crystal Butterfly Top

If you like this post, share it with a friend who might like it as well. And don't forget to follow our Pinterest Page for more news on Korean fashion & beauty!
On June 24, Nayeon released her eagerly anticipated mini album IM NAYEON, making her first solo debut as a member of the JYP Entertainment girl group after closing off Twice's 4th World Tour III with her teammates. The solo album garnered over half a million preorders, propelled by the album's lead single Pop!, illustrating Nayeon's popularity as a solo performer.
Twice, one of the most well-known girl groups in South Korea, developed a distinctive sound with upbeat, uplifting songs, and Nayeon's Pop! carries on this legacy by fusing a bubble gum melody with cutesy lyrics. Invigorating brass notes and percussion beats that go along with Nayeon's sweet-sounding but potent vocals are used to punctuate the song. The song video is as vivacious and switches between vibrant backdrops with whimsy accessories like balloons, lollipops, and bubbles. The Broadway-themed music video also incorporates vintage elements that give off a High School Musical vibe.
With 14 various sets of clothing, Nayeon offers a wide range of styles that deviate from her typical girl-next-door aesthetic. She displays her versatility in a variety of looks, including fairy-like costumes, flashy ensembles that are perfect for music festivals, and color-coordinated sets. For six great summer-ready ensembles from this Video, keep reading!
#nayeon pop outfits #nayeon pop outfit #pop nayeon outfits #nayeon outfit pop #nayeon louis vuitton pop outfit #twice #nayeon #pop!