XG Accomplished Stunning, Unusual Outfits In 'Shooting Star' Music Video
In their vibrant music video for "Shooting Star," XG wore awe-inspiring unconventional clothing.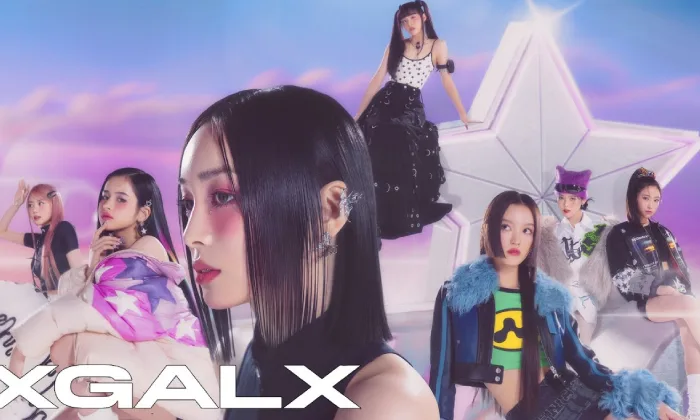 Another hit song by the Japanese girl group XG, which is headquartered in South Korea. Their upbeat song "Shooting Star," which is in English, has catchy beats. It is complemented by a music video that is even more energetic and fully displays the girls' unique sense of style.
See below for more information on the music video's outfit! Are you curious about their appearances? For a thorough breakdown, keep reading! For you, we gather the product link! Simply click to purchase it!
Please note: This post contains affiliate links to products we trust and recommend. If you choose to purchase a helpful product using these links, we may receive a small commission for referring you – at no extra cost to you. These funds help us keep this blog up and running.
XG's 'Shooting Star' MV Fashion
Harvey's Look #1
Harvey is dressed in a multicolored motion long-sleeve T-shirt, a Binx skirt, and a chuck brand-printed stretch-cotton corset from MIAOU for a grunge-inspired appearance.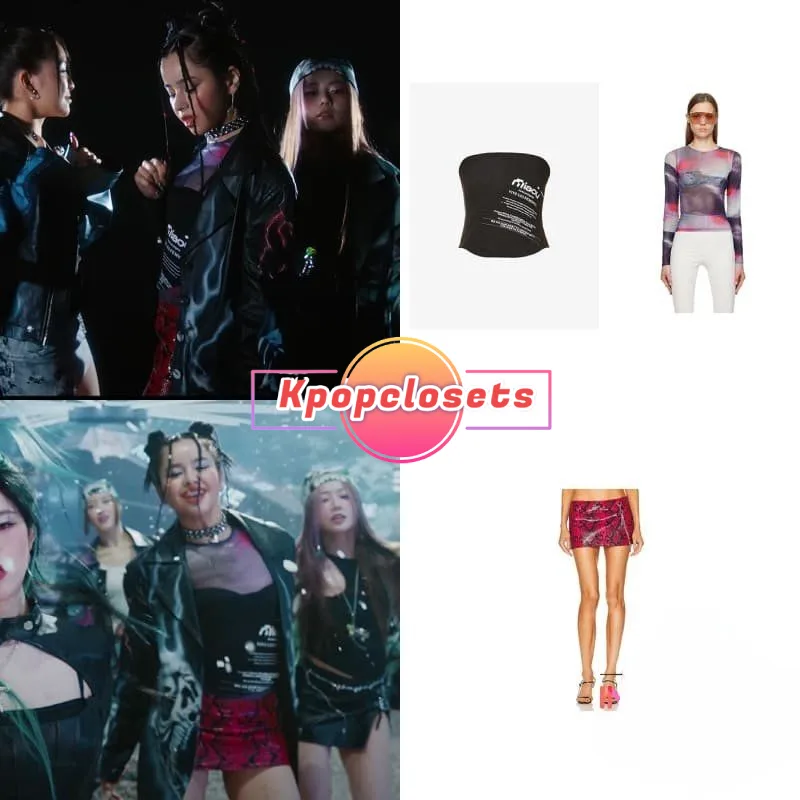 Harvey's Look #2
She then changed into a Diesel ribbed knit beanie with a logo patch and a top with a camouflage print. The scarf is a lovely finishing touch to the ensemble from Liberal Youth Ministry.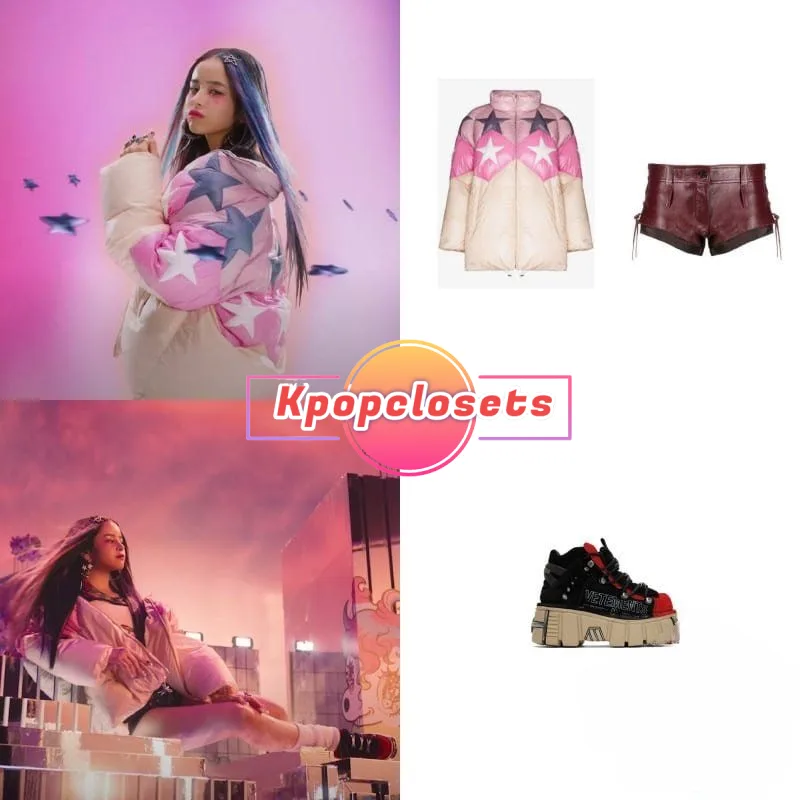 1.Camouflage-print Zipped Sweater
Harvey's Look #3
On Harvey, the side lace-up leather shorts and puffer jacket with a star motif by Miu Miu look lovely together. Platform sneakers by VETEMENTS in black and red completed the look.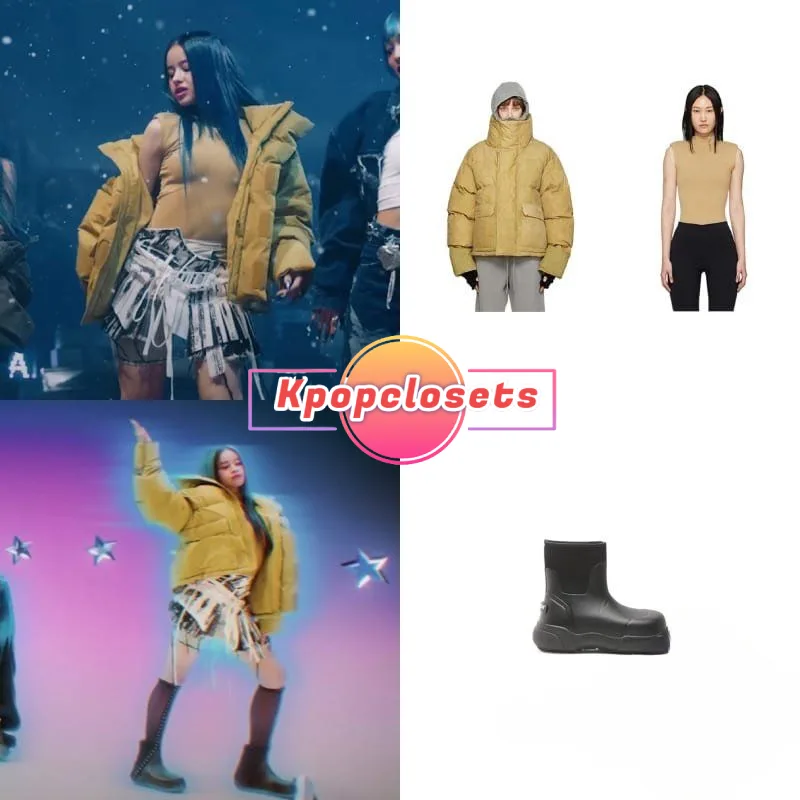 Harvey's Look #4
Harvey wore a beige blade bodysuit from ENTIRE STUDIOS together with a khaki down jacket and black slip-on rubber boots from Ambush.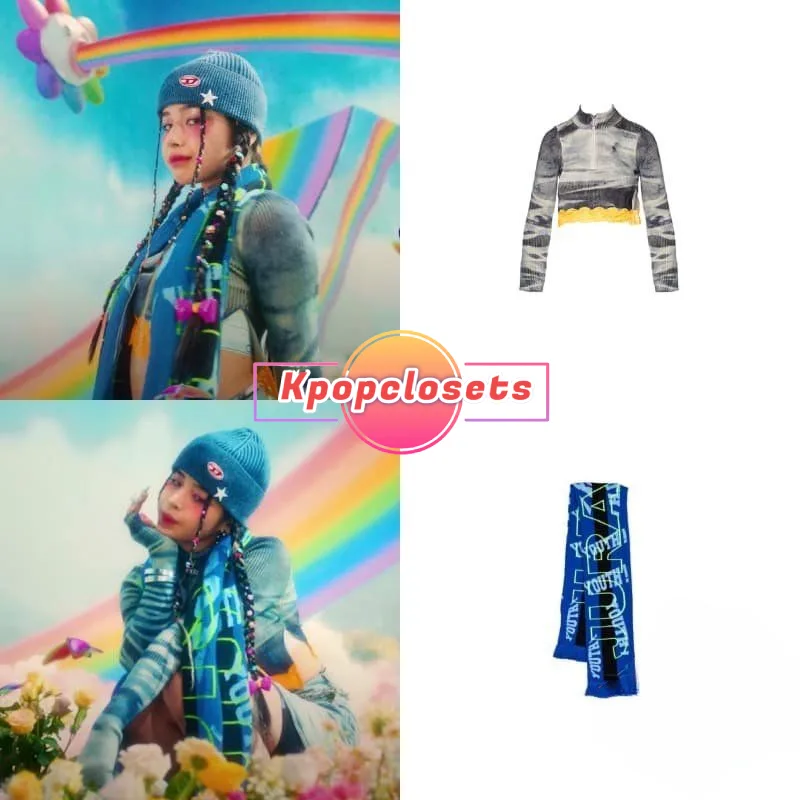 Jurin's Look #1
I Am Gia's faux fur black bomber jacket and MIAOU's faux leather belt are part of Jurin's stylish ensemble.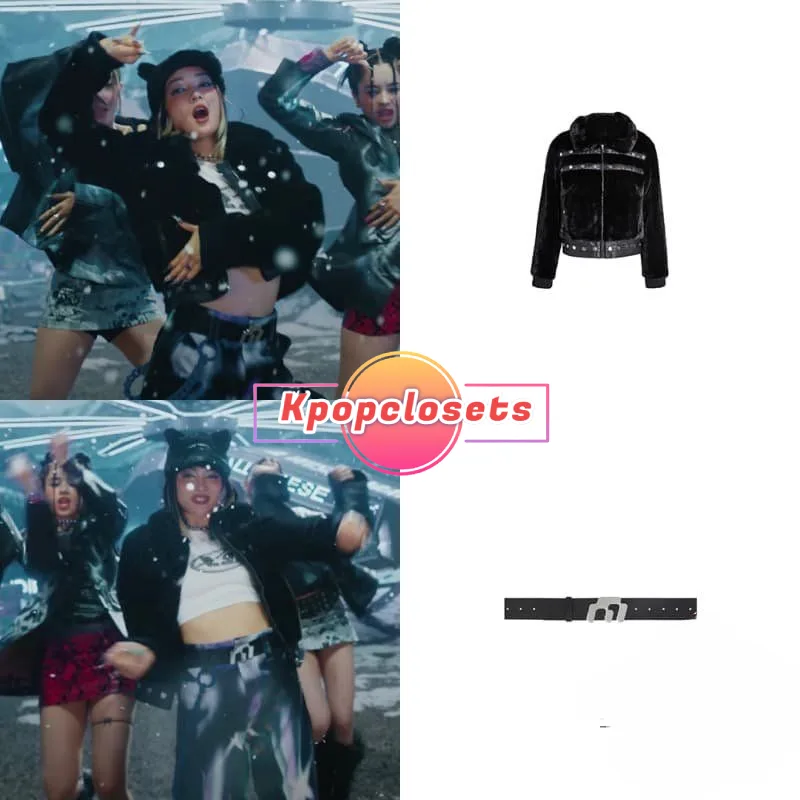 Jurin's Look #2
These Hi-Speed wide-leg trousers from VETEMENTS stood out in another chic ensemble by Jurin.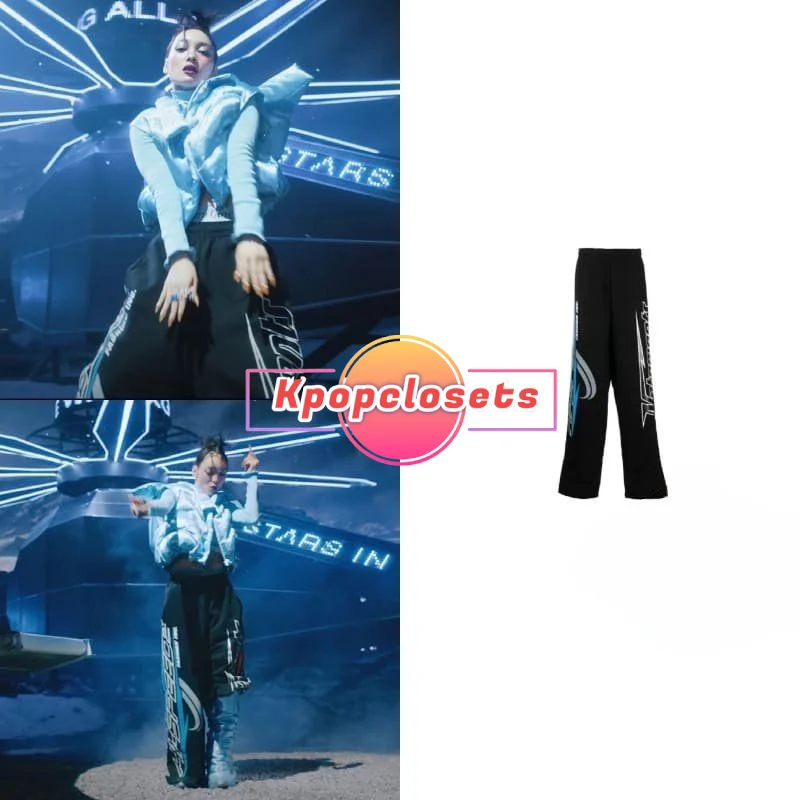 Jurin's Look #3
A logo-embroidered zippered sweatshirt from AAPE BY A BATHING APE was worn by Jurin over a black one-piece swimsuit with a graphic print from Sandy Liang, and she accessorized with a silver multi-charm necklace by Chopova Lowena.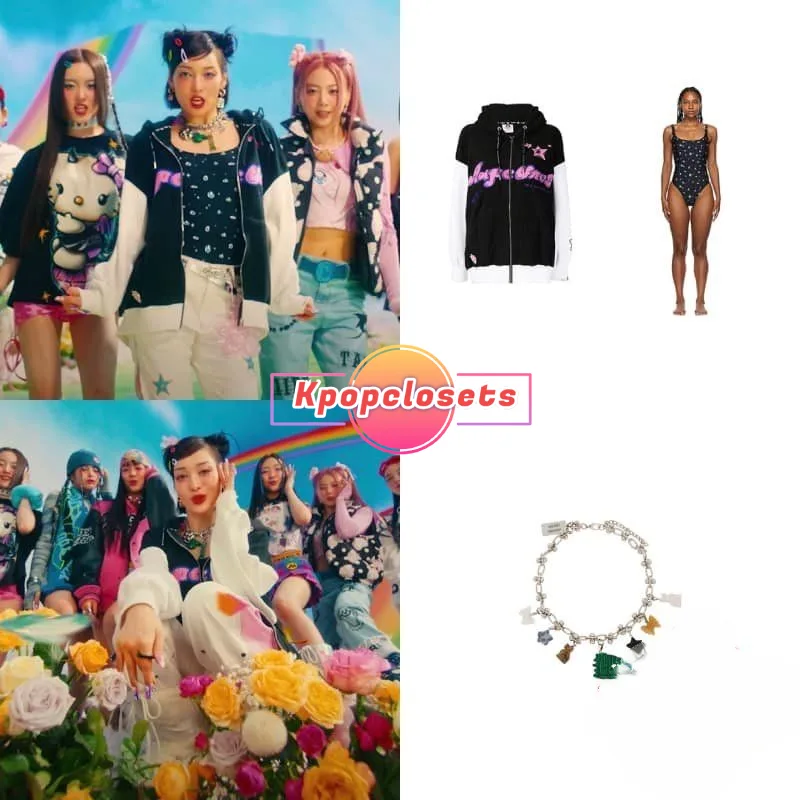 1.Logo-embroidered Zipped Hoodie
2.Black Connie One-piece Swimsuit
Cocona's Look #1
A complete mood is created by Cocona's blade stretch cotton jersey bodysuit from Whole Studios paired with denim cargo pants from BLUMARINE.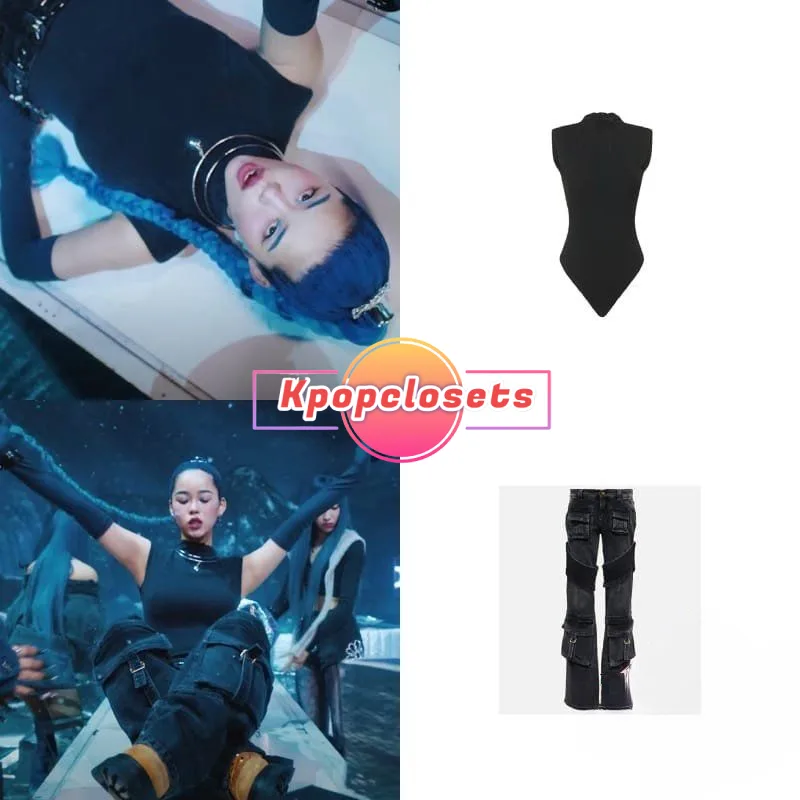 1.Stretch Cotton Jersey Bodysuit
Cocona's Look #2
Then, she dons a pair of eye-catching red boots by Moon Boot x Highsnobiety, a pair of red twisted sunglasses, and earrings with bright pink paint-dipped details, all by OTTOLINGER.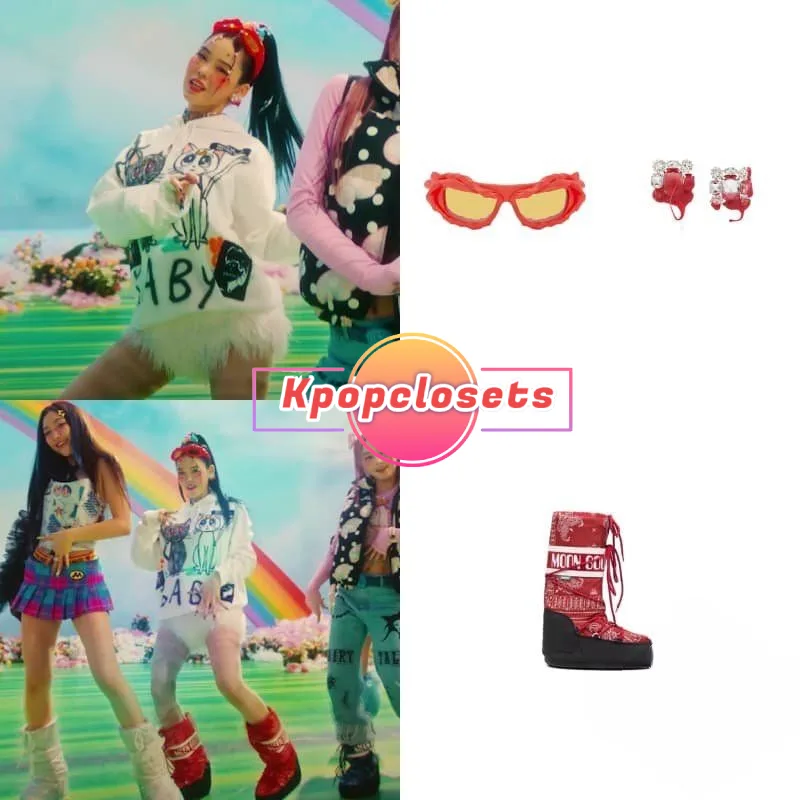 2.Paint-dipped Detail Earrings
Cocona's Look #3
For this memorable look, Cocona wore a purple precious beanie from KNWLS and faux leather silver knee-high boots by Ancuta Sarca x Nike.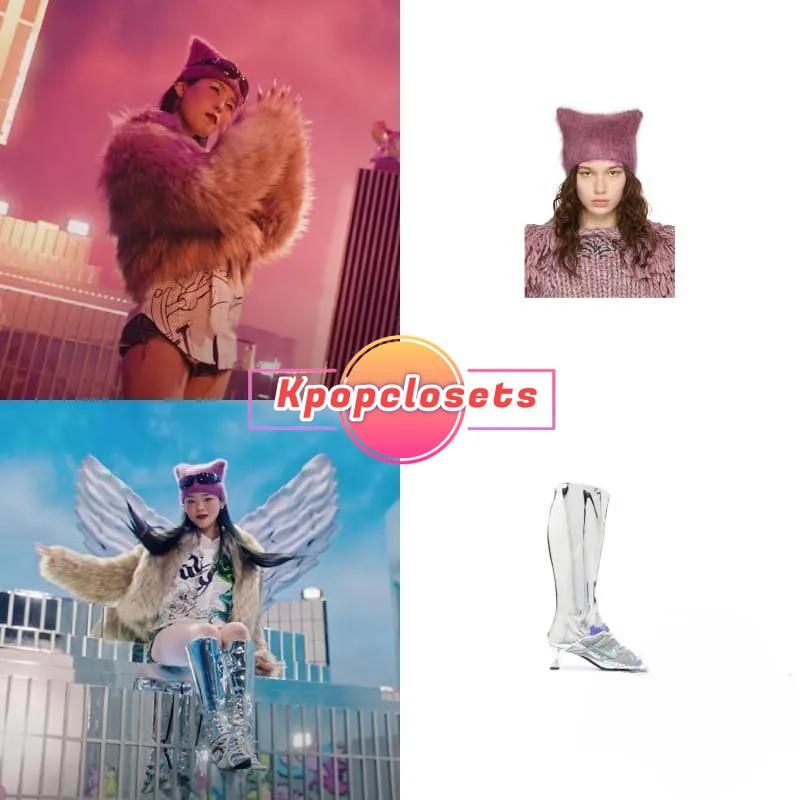 Chisa's Look #1
Chisa accessorized her lovely costume with lavender tulle socks from Lirika Matoshi, high-top snow boots from Moon Boot x 10 Corso Como, a pink athletic skirt from COLLINA STRADA, and a Hello Kitty T-shirt from GCDS.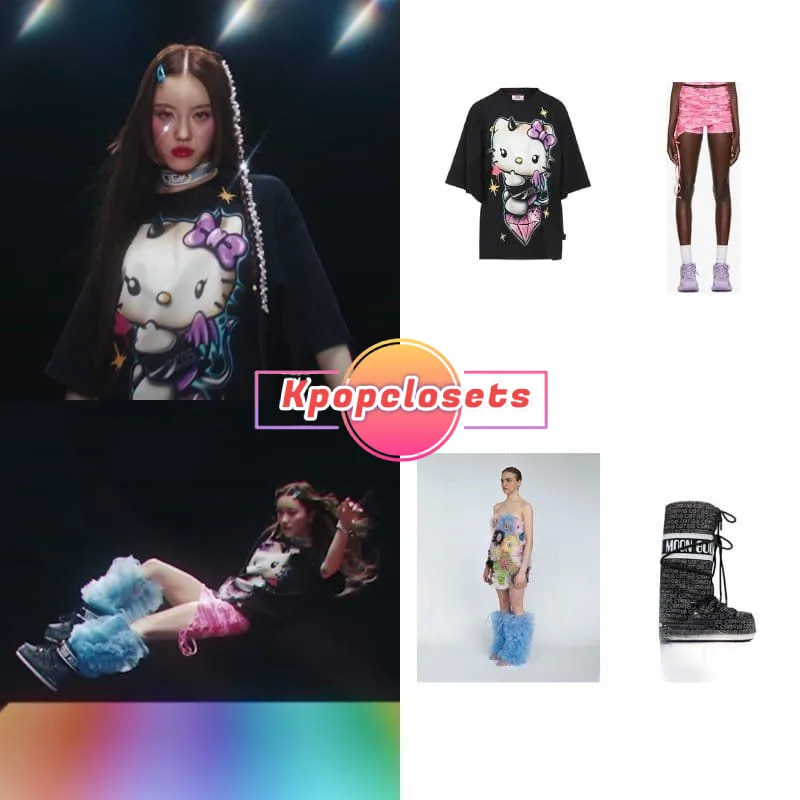 Juria's Look #1
Juria paired a summer stardust print one-piece swimsuit from Louis Vuitton with a stud-embellished denim skirt from Balenciaga and black nylon boots from SACAI for an edgy yet stylish ensemble. The ensemble was completed with the addition of a grid teddy bear necklace from YVMIN and a silver shooting star necklace by MARLAND BACKUS.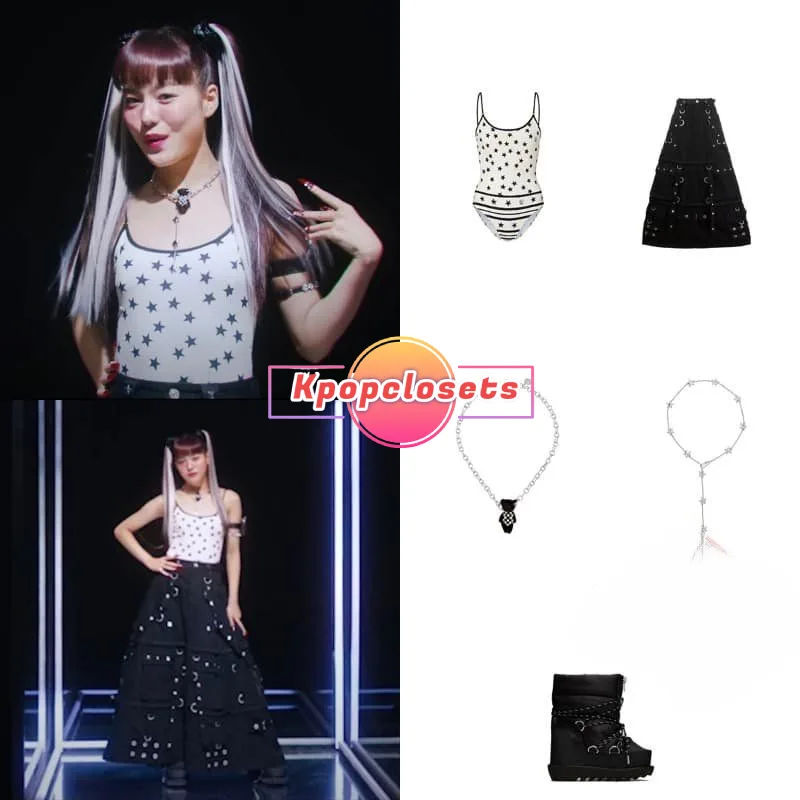 2.Stud-embellished Denim Skirt
3.Silver Grid Teddy Bear Necklace
4.Silver Shooting Star Necklace
Juria's Look #2
She was easy to spot in a hot pink Hollywood brand-appliqué knitted varsity jacket from NOON GOONS.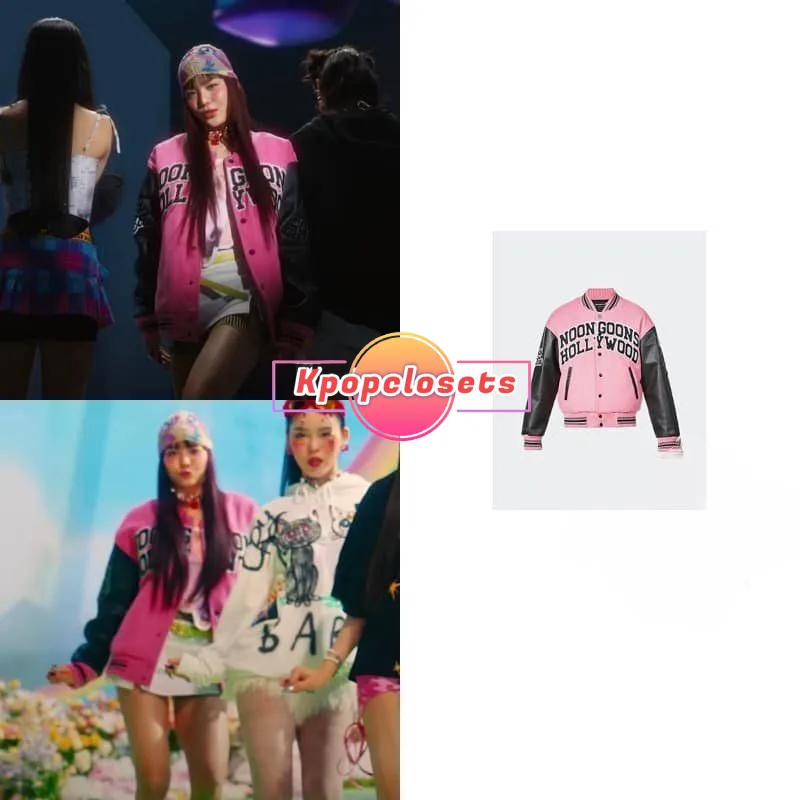 1.Hollywood Knitted Varsity Jacket
Hinata's Look #1
Wearing a logo-fitted stretch jersey top from Balenciaga with an embroidered layered tutu skirt from Simone Rocha and icon faux-fur snow boots from Moon Boot, Hinata's first outfit is the definition of quirky.
1.Logo Fitted Stretch Jersey Top
2.Embroidered Layered Tutu Skirt
Hinata's Look #2
A mixed polka dot print vest from Sandy Liang was paired with a pair of adorable FairyTale Denim leggings from Skoot for an equally playful look.
Maya's Look #1
Maya put created a lovely feminine ensemble using a logo-pattern metallic nylon snow boot from Moon Boot, a multicolor tartan miniskirt from MOWALOLA, and a print corset from Lirika Matoshi.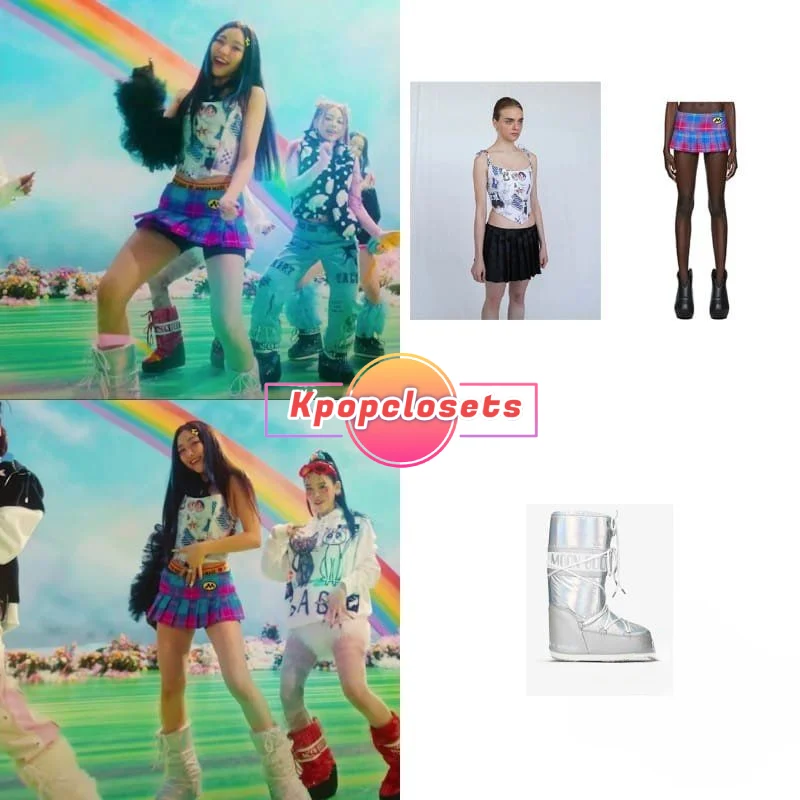 2.Multicolor BGC Tartan Miniskirt
Maya's Look #2
Heron Preston's strange flame-print biker shorts and a silk hair scrunchie are displayed in her all-black ensemble.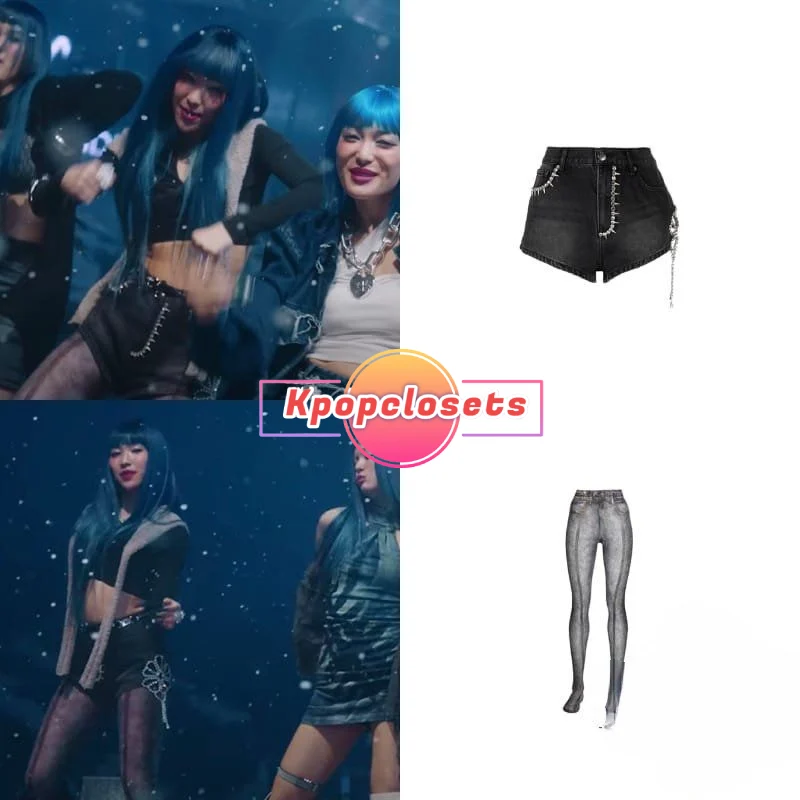 2.XXL Ad Banner-logo Hair Scrunchie
Maya's Look #3
In the final look, Maya wore these crystal-embellished denim shorts from AREA with denim-effect tights from Diesel.
1.Crystal-embellished Denim Shorts
2.P-Koll-F2 Denim-effect Tights
If you like this post, share it with a friend who might like it as well. And don't forget to follow our Pinterest Page for more news on Korean fashion & beauty!