Dahyun from TWICE attended New York Fashion Week in the United States and flaunted her beauty!
On February 15th, Michael Kors released a portrait of TWICE's Dahyun with with the statement, "K-pop sensation who is joining our 2023 F/W collection."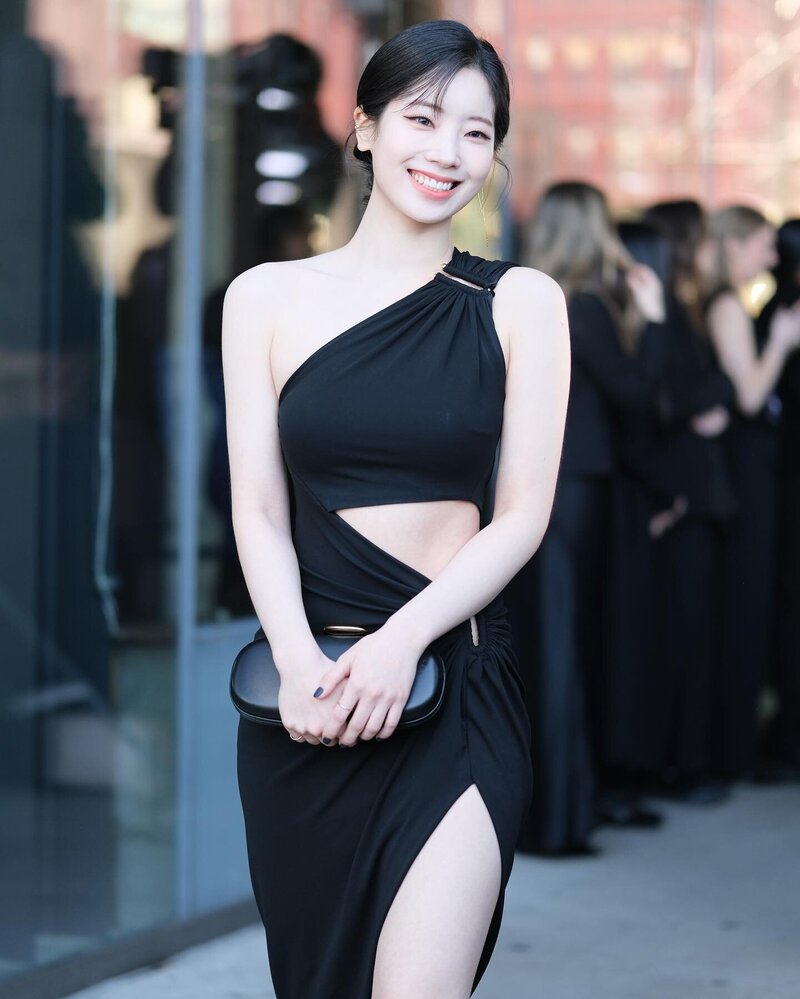 Dahyun poses in the publicized photo wearing a black outfit that bares her left shoulder and left waist. Fans are drawn to her because of her attractive figure and forceful poses, as well as because of her glowing skin. The black dress really made Dahyun stand out since it was the ideal blend of contemporary and traditional.
Do you think her outfit is interesting? Then have a look at Dahyun of TWICE wearing these striking Michael Kors ensembles below! We collect the product link for you! Just click and buy it !
Please note: This post contains affiliate links to products we trust and recommend. If you choose to purchase a helpful product using these links, we may receive a small commission for referring you – at no extra cost to you. These funds help us keep this blog up and running.
#1 DAHYUN's Look  at Fall/Winter 2023 Michael Kors Collection Show
She proudly displayed the Spring 2023 Ready-to-Wear Collections from Michael Kors.
She is wearing an elliptical cutout dress made of stretch matte jersey, along with Lume Yellow Earrings and a Tina Small Leather Minaudière accessory bag. She paired the dress with Chrissy Leather Sandals. To complete the ensemble, Dahyun wore her hair in sleek, straight strands, framing her face and giving the overall look a sleek, sophisticated feel.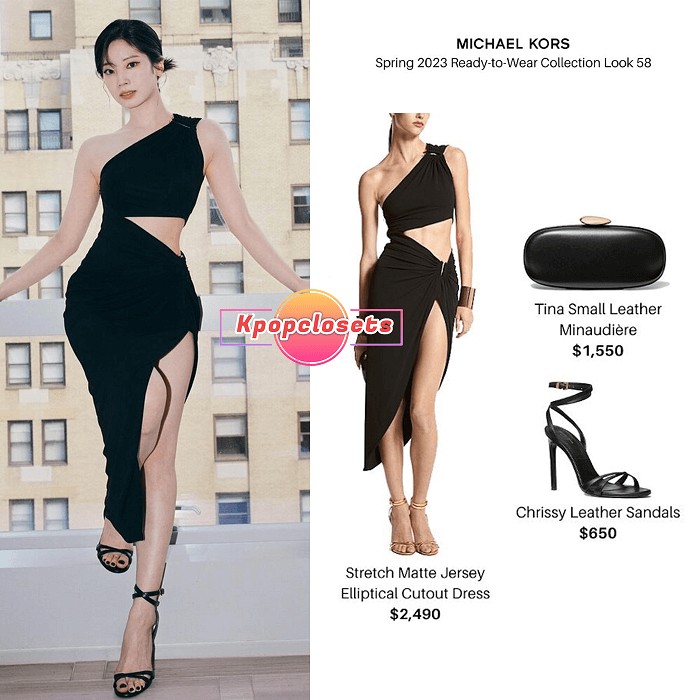 1.Stretch Matte Jersey Elliptical Cutout Dress
2.Tina Small Leather Minaudière
#2 DAHYUN's Look  at Incheon Airport
Dahyun first made her fans fawn over her airport fashion style before her stunning performance at the Michael Kors event during NYFW 2023!
She accessorized with a Hamilton Heritage Small Leather Belted Satchel and a Michael Kors Belted Crepe Blazer Dress. She is wearing a pair of Vanessa Flex Slingback Pumps from Michael Kors.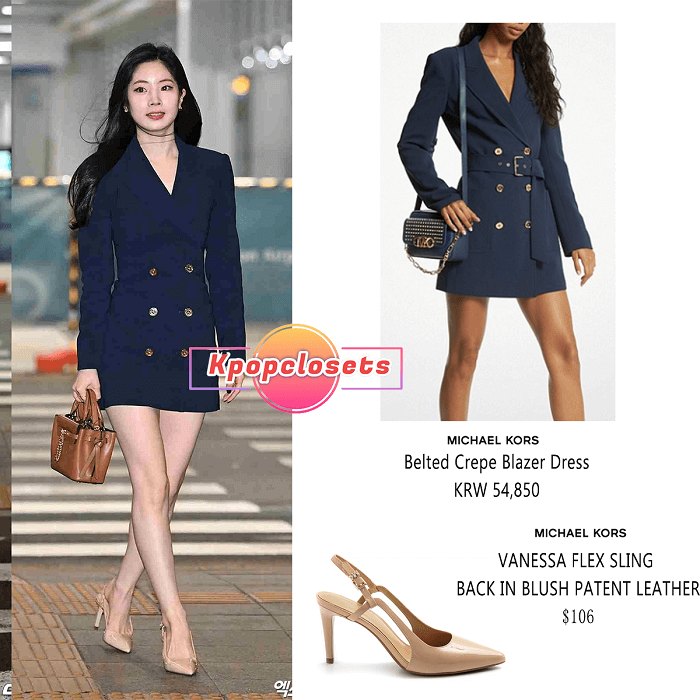 2.Hamilton Legacy Small Leather Belted Satchel
3. Vanessa Flex Slingback Pumps
#3  DAHYUN's Outfit at Incheon Airport
She is wearing a very casual-chic style in her second airport outfit as she departs from JFK International Airport. She was dressed entirely in Michael Kors.
She wears a Mettalic Ribbed Cropped Sweater underneath an Astor Studded Faux Leather Moto Jacket. With it, she wore a Denim Belted Mini Skirt.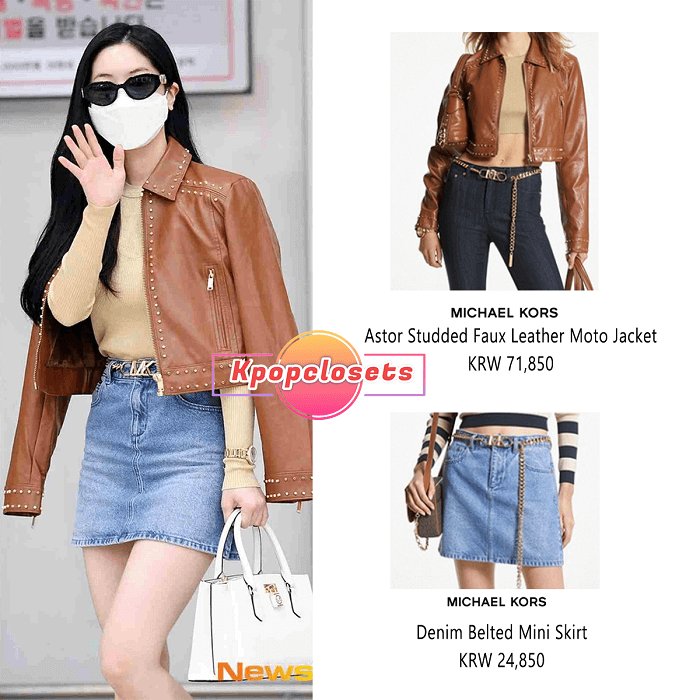 1.Astor Studded Faux Leather Moto Jacket
2.Mettalic Ribbed Cropped Sweater
If you like this post, share it with a friend who might like it as well. And don't forget to follow our Pinterest Page for more news on Korean fashion & beauty!
Overall, Dahyun's look was an absolute success, showing off her natural beauty, her confidence on the runway, and her fashion-forward choice of dress. All in all, she definitely made a statement at the 2023 New York Fashion Week and will always be remembered for that moment.
New York Fashion Week 2023 is one of the most anticipated fashion events of the year. The event takes place every February in New York City and is known for being a platform for innovative design as well as established fashion labels.
For the 2023 edition, fashion aficionados can expect to see over 100 different fashion shows from around the world. Big names like Gucci, Versace, Dior and Balenciaga will be present. The designers will show off their newest collections for the season ahead, with a mash-up of classic and new styles both on and off the runway.
The event is also a great opportunity for up-and-coming designers and labels to gain traction and get noticed. With so many big and established names around, rising talent will get the chance to make a splash in the fashion industry.
As always, the week-long event is not just limited to the catwalks and presentations. Guests can also look forward to a range of events and parties, as well as special exhibitions and installations from some of the most forward-thinking and creative minds in fashion.
New York Fashion Week 2023 is sure to be a must-attend event for anyone who is a lover of fashion. With the latest trends, innovative designs and a mix of established designers and rising stars, it promises to be a spectacular event that you won't want to miss.