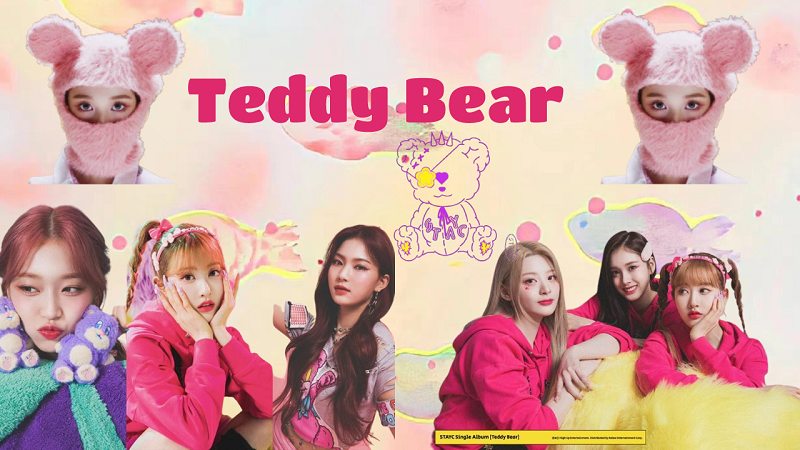 STAYC achieved a career high within a week of their comeback. It broke its own record in Initial Chodong.
According to Hanteo Chart, a music aggregation site, StayC's 4th single album 'Teddy Bear' recorded Initial Chodong sales (as of February 14-20) of 341,047 copies.
It broke its own record. StayC recorded the Initial Chodong sales of 201,072 copies with the 3rd single 'WE NEED LOVE' released in July of last year.
STAYC broke the Initial Chodong (first week of release) sales for each album. It has continued to grow step-by-step. Through this self-highest record, they once again proved their strong presence.
'Teddy Bear' is a pop punk genre song. STAYC delivers a message of comfort and hope with its unique lovely energy. The point choreography reminiscent of a bear is also impressive.
Meanwhile, StayC continues to be active with 'Teddy Bear'.
Teddy Bear by STAYC: Sung by Seeun, Sieun, Isa, J, Yoon, and Sumin, "Teddy Bear" is a brand-new Korean-English song. The new music video for Teddy Bear was released on February 14, 2023, and the song's lyrics were written by Black Eyed Pilseung, Jeon Goon, and FLYT. Black Eyed Pilseung also produced the music.
Let know about the lyrics of teddy bear:
남의 말은 짜릿해
앞뒤로들 Make A Fool (Hey)
내가 볼 땐 아닌데
자기들만 Act So Cool (Hey)
상상은 자윤데 No Way
진짜라고 믿거든 (Hey)
왜 자꾸 돌아가려 해
답답해 How Can I Say?
서두르지 마 No Hurries
Anyway, Anyway 우린 다 이번 생은 처음이잖아
정답은 없어 One Hunnit
그런 기대감 내려놔 실망도 크니까
Quiet, Please, 비행기 모드로
편히 앉아 불필요한 말 속으로
내가 원할 때만 버튼, Oh, Yeah
Yeah, Yeah, Yeah, Yeah, 바라만 봐 Just Like
Teddy Bear
Oh-oh, Oh-oh, Oh-oh-oh-oh
Teddy Bear
Oh-oh, Oh-oh, Oh-oh-oh-oh
Teddy Bear
Oh-oh, Oh-oh, Oh-oh-oh-oh, Yeah
Pump, Pump, Pump, Pump It Up
Teddy Bear