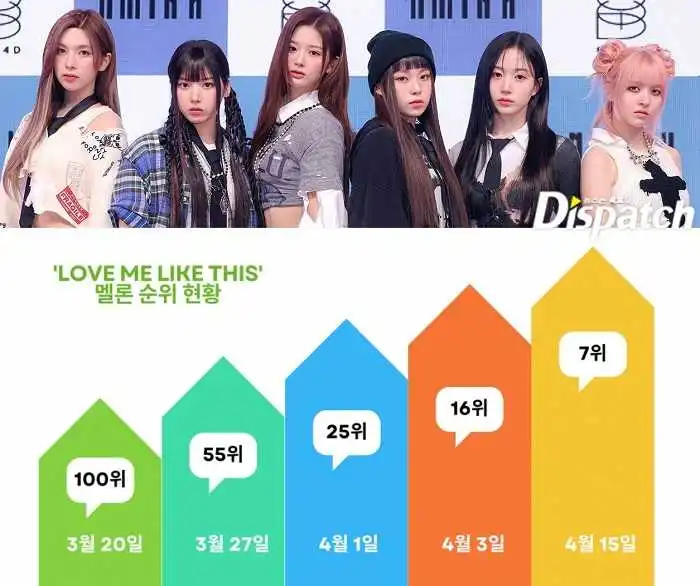 Nmixx, career high continues… "Melon Chart 100 → 7th place jump"
"100th → 92nd → 55th → 25th → 16th → 7th"
Nmixx is on the rise in popularity. On the 20th of last month, Nmixx released their 1st mini album 'Expergo'. It is steadily rising on the domestic music charts with the title song 'Love Me Like This'.
"Love Me Like This" started at number 100 on the chart on the day of its release. It jumped to 92nd in two days and to 55th on the 27th of last month.
After entering this month, it rose faster. It ranked 25th on the 1st and 16th on the 3rd. On the 9th, it raised the ranking to 9th place. It was in the top 10 for three days. Today's ranking is 7th.
It is leading the response not only in Korea but also abroad. Nmixx ranked 122nd on the Billboard 200 as of April 8th. They achieved the feat of entering the Billboard main chart for the first time since their debut.
With this album, they also broke their own Initial Chodong record (630,811 copies) and showed solid growth. They also won first place on music charts after their debut.
His all-rounder skills shined. In a recently released behind-the-scenes video, Nmixx said, "We are practicing hard, thinking about every breath to show a perfect stage."
'Love Me Like This' is characterized by addictive melodies and beats. The lyrics contain the true connection and transformation process of people who have come to love each other.
Meanwhile, Nmixx builds a global presence with its first overseas showcase tour. Starting from Seattle on the 2nd of next month, a total of 13 solo performances will be held in 8 cities in North America and 5 regions in Asia.