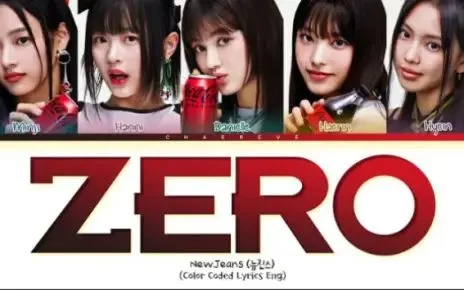 One of the biggest up-and-coming musicians in the Korean pop music scene, NewJeans has undoubtedly caught the attention of big companies like Coca-Cola because of their societal influence: In April 2023, they released Zero as a joint effort with well-known American soft drink companies. For some reason, this song startled and delighted all of its listeners with the significant alliance they had made. This song initially appeared to be a love song made for a man, but we soon understood that it was a bit different. Let's look at the words to see what they represent (you can also find the complete English lyrics at the end of this article).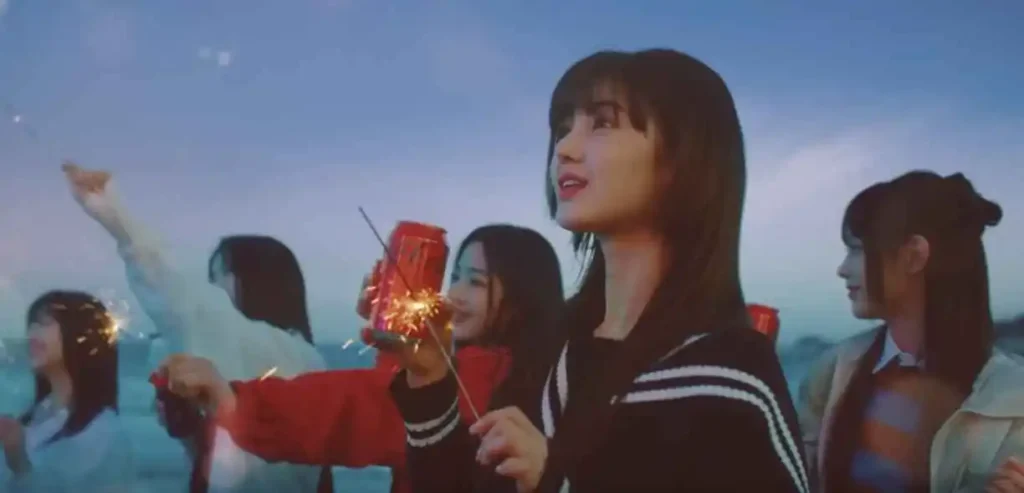 NewJeans, the Coca-Cola song Zero: the English lyrics
Zero is an homage to Coca Cola written like a love song. In the lyrics, NewJeans make references to how they are attracted to "your gorgeous eyes" and "your confidence," which might be taken to mean that they are attracted to a guy. Yet it doesn't take long for us to discover that they actually love the crimson soft drink.
Much of the song's lyrics use phrases that may also be used to describe people to extol the qualities of Coca-Cola. They believe their story can go far and that it may be so "refreshing" because of its "sparkling character"
'Cause you know you're sparkling like a shooting star
I can see us going far
How refreshing would that be?
Several of the sentences even echo the official Coca-Cola Zero advertisements' pitch, reiterating that the beverage has the same great taste as the original Coca-Cola but has no sugar. As "zero pressure" in the NewJeans song, this is the case.
You got that confidence
Liked you from the get go
Cool as ever
Zero pressure
Coca-Cola is tasty, as said in the chorus, which corresponds to the scene in the promotional video where the members of NewJeans open the can and consume it. This manner, even people who are unaware of their cooperation can recognize the song's purpose as an homage.
Coca-Cola is tasty
Coca-Cola is tasty
See you looking, catch it, here's your Cola
And yet, each sentence may be read as a request for a particular man they prefer. The lyrics to the song Zero continue to have a double meaning, which their admirers find appealing. This is regarded as somewhat of an accomplishment for the k-pop group and their standing in the global market.
The complete English lyrics
So sparkling, those dark eyes winking at me
Boy, your beautiful eyes got me lost now
Yeah, yeah
You catch me off guard sometimes
But you got that confidence
Liked you from the get go
Cool as ever
Zero pressure
'Cause you know you're sparkling like a shooting star
I can see us going far
How refreshing would that be?
We will pop up all around the world (World)
Like magic (Magic)
I'm ready, let's go (Go)
You already know (Know, know, know)
That I don't ever want us to be
I don't ever want us to be
I don't ever want us to be apart, yeah
I don't ever want us to be
I don't ever want us to be apart
Co-Co-Co-Co-Co-Co
Coca-Cola is tasty
Coca-Cola is tasty
See you looking, catch it, here's your Cola
See you looking, catch it, here's your Cola
Coca-Cola is tasty
Coca-Cola is tasty
See you looking, catch it, here's your Cola
See you looking, catch it, here's your Cola
I was so curious
Somewhere over there
Two words in black that caught my eyes
Boy, your stylish glow up
Got me hooked now
Yeah, yeah
You tease me sometimes
But you got that super sweetness
Liked you from the get go
Sweet as ever
Zero fear
'Cause you know you're sparkling like a shooting star
I can see us going far
How refreshing would that be?
We will pop up all around the world (World)
Like magic (Magic)
I'm ready, let's go (Go)
You already know (Know, know, know)
That I don't ever want us to be
I don't ever want us to be
I don't ever want us to be apart, yeah
I don't ever want us to be
I don't ever want us to be apart
Co-Co-Co-Co-Co-Co
Coca-Cola is tasty
Coca-Cola is tasty
See you looking, catch it, here's your Cola
See you looking, catch it, here's your Cola
Coca-Cola is tasty
Coca-Cola is tasty
See you looking, catch it, here's your Cola
See you looking, catch it, here's your Cola