This summer, MISAMO, a unit group from TWICE, will debut in Japan. The first unit group of TWICE, called MISAMO, will make its debut. Its members are Mina, Sana, and Momo.
Beginning on February 7, Mina, Sana, and Momo opening teaser images and videos have been published on TWICE's official Japanese social media accounts. TWICE released unit photographs of the three members on February 9 at 4 a.m. KST, heralding unit arrival of their fi group, MISAMO, on July 26 with a Japanese mini album.
In this video teasers, their all wore the dress from ALBINA DYLA, let's check out the Luxury Handmade evening dress. We collect the product link for you! Just click and buy it !
MISAMO outfits at Opening Trailer Teaser on February 9 2023
Please note: This post contains affiliate links to products we trust and recommend. If you choose to purchase a helpful product using these links, we may receive a small commission for referring you – at no extra cost to you. These funds help us keep this blog up and running.
Mina's Dress #1
Wow, the elegant women draw my attention and stand out from the crowd! Mina wore the white high neck velvet dress coming for us. The high-collar design is elegant yet modern, while the short, overlapping skirt is daring and edgy. Shiny velvet dress in white makes Mina looking wonderful.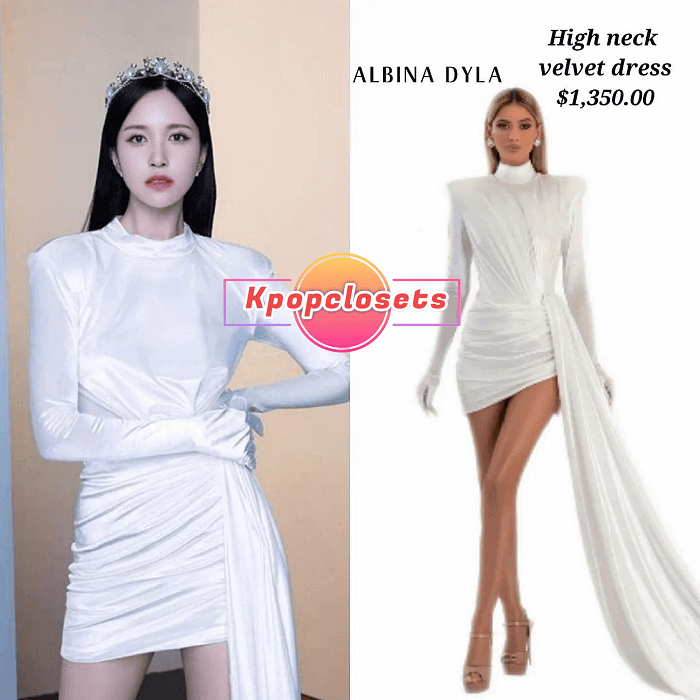 Mina's Dress #2
Mina's second dress is a side slit dress which have big design in front of chest with silver details that contain silver beads by handmade and have one sleeve with glove. In addition to the classic color, there are also sequins and beaded options to add a luxurious sparkle to the look.Perfect for red carpet events and any other aristocratic occasions.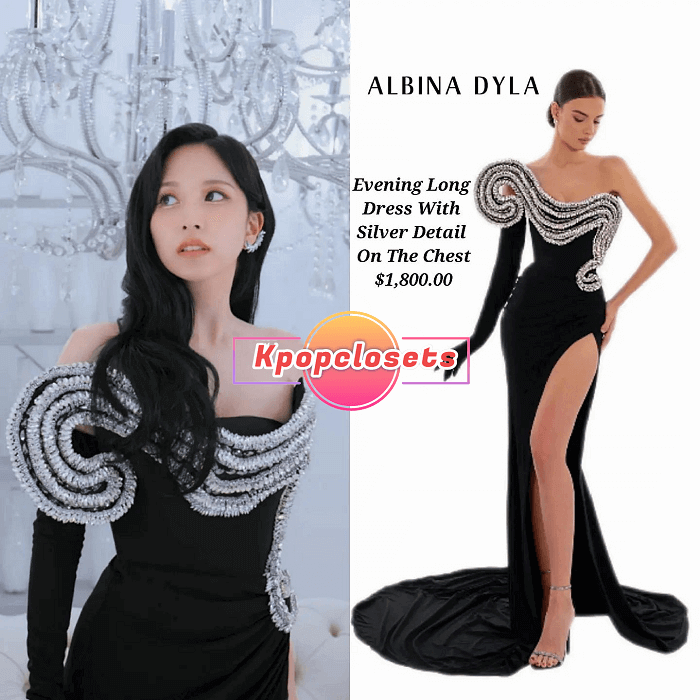 Sana's Dress
Sana wore a long white dress with gold and silver details. Open chest, puffy shoulders and cut outs on the waist area make sana more charming. She was accessorised with dainty drop pearl earrings, a sparkling diamond necklace and a delicate bracelet. She had the look of a beautiful goddess and the elegant dress was clearly showcasing her unique beauty.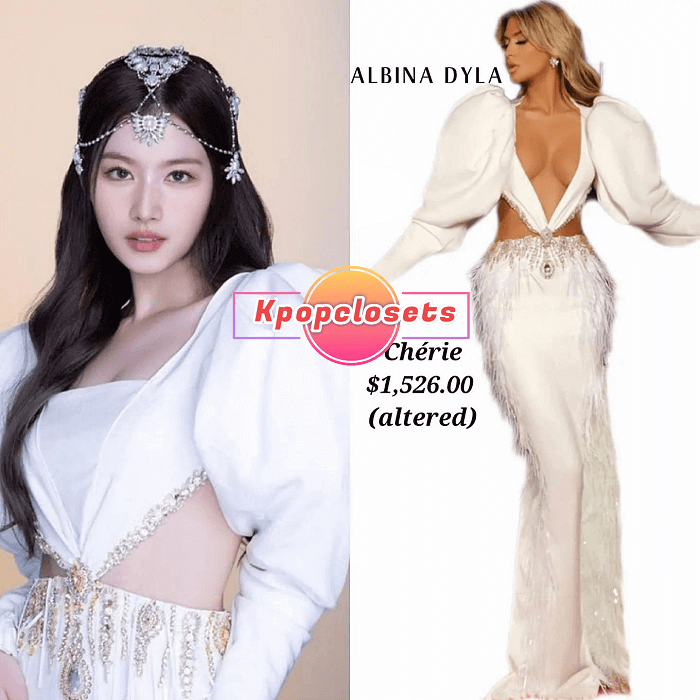 If you like this post, share it with a friend who might like it as well. And don't forget to follow our Pinterest Page for more news on Korean fashion & beauty!
Let's know more about the brand – Albina Dyla
One of the rarest names in the world for high-end, handmade apparel is "Albina Dyla." We produce high-end handmade products that are stylish and current with fashion trends, constructed of the finest adorned fabrics with sparkling stones and beads. We create evening gowns, prom dresses, wedding gowns, jumpsuits, costumes, and outfits for every event with the utmost dedication and skill. We also offer our international customers free shipping, which makes the deal even sweeter. This business, which is still proudly located in Kosovo and currently employs more than 300 people, has sales in more than 88 different nations. All of this came from a motivated team who believed that "making things happen" made a difference.
The three Japanese group members Mina, Sana, and Momo make up the subgroup. The initial two letters of each member's name are used to create the name MiSaMo.
The three Japanese members have been referred to as MiSaMo by both fans and the group's own members.
As part of the soundtrack for the TV Asahi series "Liaison – Children's Heart Clinic," Mina, Sana, and Momo released "Bouquet" on January 25. The song immediately topped both the daily and weekly Line Music charts in Japan.