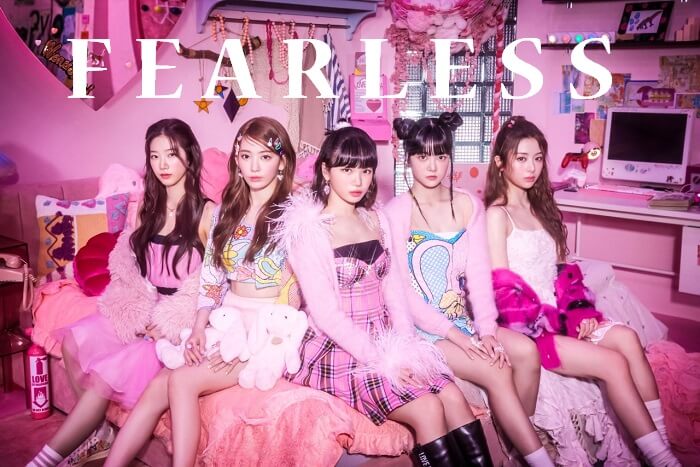 Congratulation on LE SSERAFIM released the first Japanese Single "FEARLESS". For the music concept photo, they chose the pink for the main color. Every girl in the group are look fearless and chic.
Let's see the detail of the clothes in FEARLESS Pink Musk ver Concept Photo. We collect the product link for you! Just click and buy it !
Please note: This post contains affiliate links to products we trust and recommend. If you choose to purchase a helpful product using these links, we may receive a small commission for referring you – at no extra cost to you. These funds help us keep this blog up and running.
Chaewon's Look
She hands-down nailed her glamorous look using two pink items, baby pink fran cardigan from MIMI WADE, paired with embellished pleated cheacked wool-blend mini dress from AREA. The logo tape knee high boots from MOSCHINO is very cool for the look.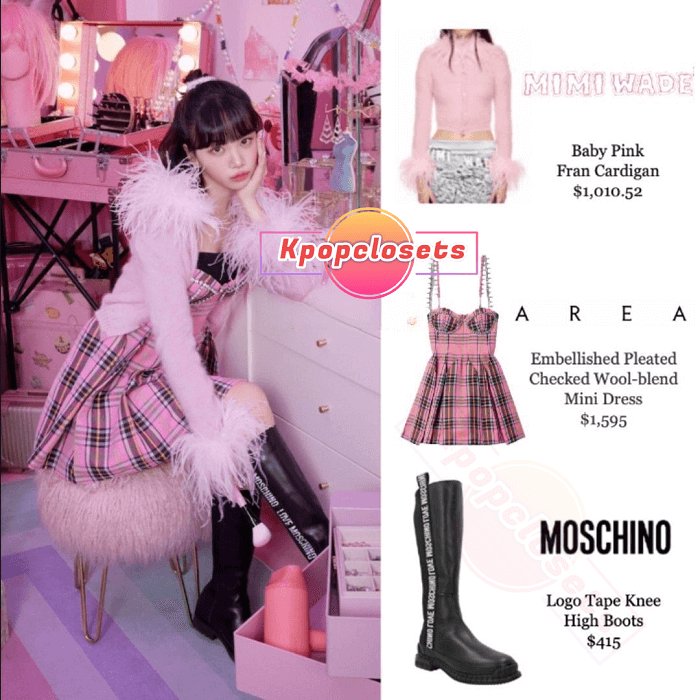 2.embellished pleated cheacked wool-blend mini dress
Yunjin's Look
The chic girl Yunijin wore argyle mohair blend cardigan from MARNI, with the stud-detail leather mules from GANNI. The whole look was so fance pink.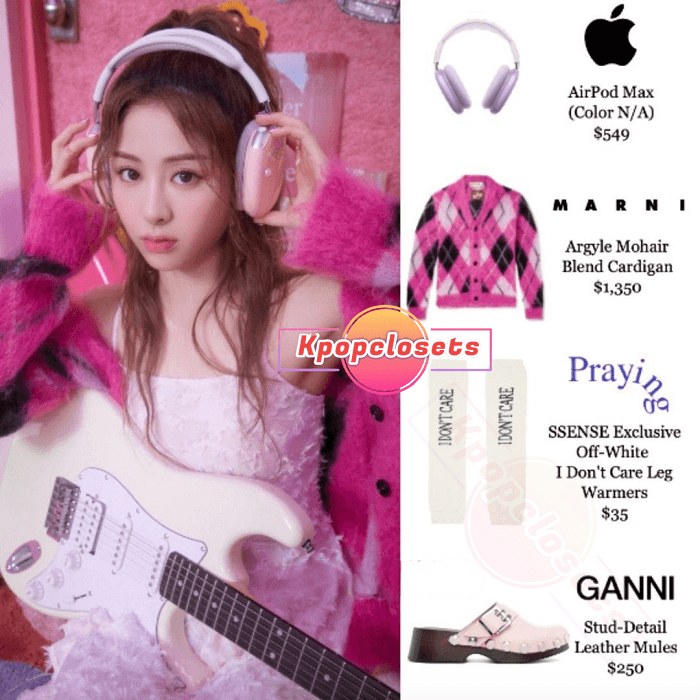 1.argyle mohair blend cardigan
Kazuha's Look
We can't take our eye from Kazuka!!! Opted for belted tool mini dress from PINKO and stan smith pride sneaker from ADIDAS, she finished her fashion look as a pink glamorous pincess.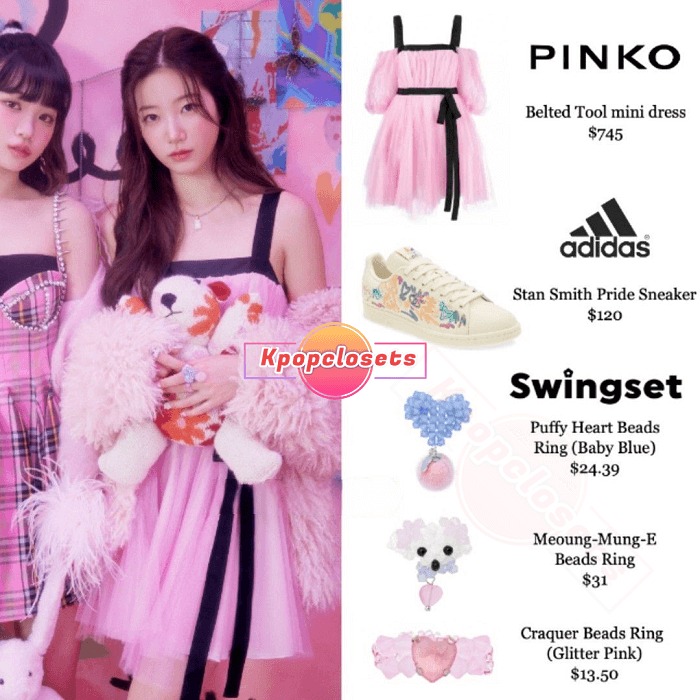 Eunchae's Look
The youngest girl in the group is so charming. This gorgeous pink look of Eunchea's featured a chic pink mohair cardigan from MIMI WADE, paired with embroidered cotton mini dress from MOSCHINO.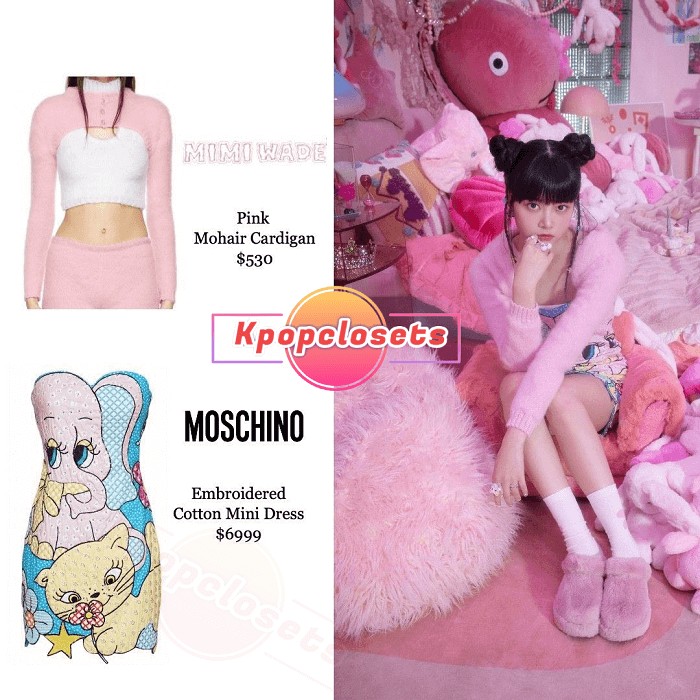 2.embroidered cotton mini dress
Sakura's Look
Her beauty was truly out of this world when she showed up wearing a catoon-pattern polka-dot cardigan from MOSCHINO, paired with pink faux-fur skirt from blumarine.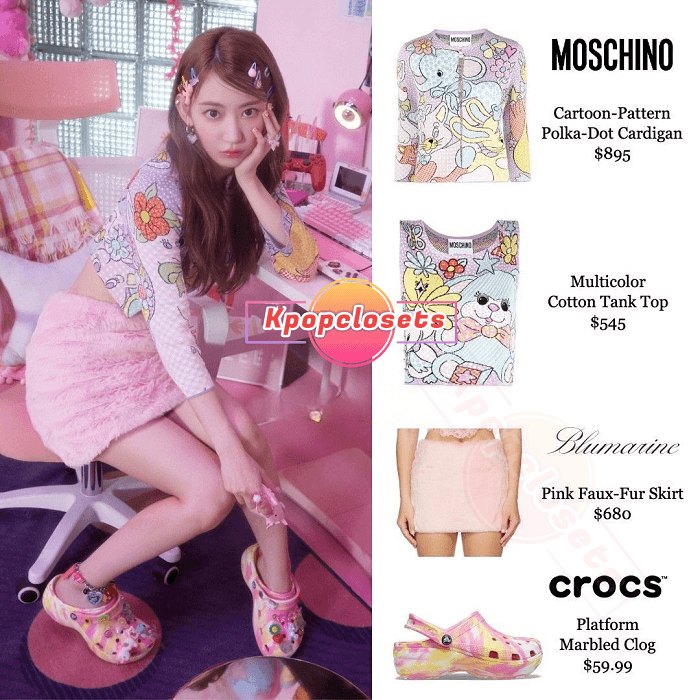 1.catoon-pattern polka-dot cardigan
If you like this post, share it with a friend who might like it as well. And don't forget to follow our Pinterest Page for more news on Korean fashion & beauty!
LE SSEAFIM has enjoyed a particular popularity in Japan before their official debut in this country. Particularly, the group ranked second in the musician category of Yahoo Japan's "Search Terms Awards 2022" announced on the 5th, and was the only overseas artist to be nominated for the grand prize. On the 31st, he will appear on NHK's 73rd "Red and White Year-end Song Festival", a well-known year-end broadcast in Japan.
The single is an upbeat track with a powerful chorus, expressing strength in the face of fear. The lyrics were written to empower those in the face of difficulties and to encourage them to stay fearless and fight on.
The song has already been a huge hit on the music charts and has received delighted reactions from fans. LE SSERAFIM are excited to share their empowering message with their fans, with the group saying, "We want to be able to convey our message that no matter what we face, we always have to stay 'Fearless'".
If you're looking for an uplifting message and a powerful song to get you through hard times, look no further than LE SSERAFIM's latest single, "Fearless"!
Below were the netizen's comments on LE SSEAFIM's first Japanese Single "FEARLESS"music concept photo
excin : they look beautiful but prefer the original video. the original mv is more different from other mvd we see and I like the fashion concept. this is a bit more girly which isn't a bad thing, just doesn't match the song as well.
eggeleg : i love how different it is from the korean ver!! also i feel like their english pronunciation has improved so much just between these different versions. amazing as always!!!
Werefie : LOVE the PV! Was wondering how the cuter concept would work, but the way they get styled from cute TO elegant works SO well. Also I might have missed Sakura doing cute concepts a bit haha
Jahino : This is great! I love that they took the music pause out of this MV- it flows great and the wah guitar stepping up is clean!
fakepull : truly obsessed with the styling here. I honestly haven't been super into lsf's outfit styling most of the time, but I love all their outfits/hairstyles here! I also like the slightly different vibe the song has in this mv? Feels a lot more bright and cheerful. I think I actually prefer it to the og version lmao.