K-Pop superstars TWICE have returned with "MOONLIGHT SUNRISE", their first release of 2023 January. "MOONLIGHT SUNRISE" is the group's second English single which max with miami bass-bassed pop song explores the feelings and excitement of falling in love.
The music video is dreamy, charming visuals. In this music video, twice's cody choose the local brand LACEMADE which is focus on making intage but modern corset knitwear to created a romantic, delicate, elegant, fairy atmosphere.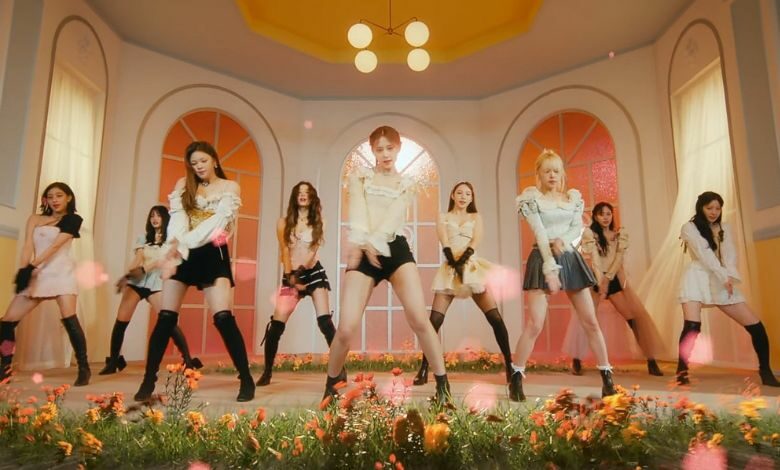 So, let's talk about the outfits and see what the girl group has in store for us. We collect the product link for you! Just click and buy it !
Please note: This post contains affiliate links to products we trust and recommend. If you choose to purchase a helpful product using these links, we may receive a small commission for referring you – at no extra cost to you. These funds help us keep this blog up and running.
TWICE's 'Moonlight Sunrise' MV Fashion
Nayeon's Look #1
First we have Nayeon wore a blue popcorn cardigan from luvistrue, paired with snow rhodomytus corset from lace made, so vintage and modern.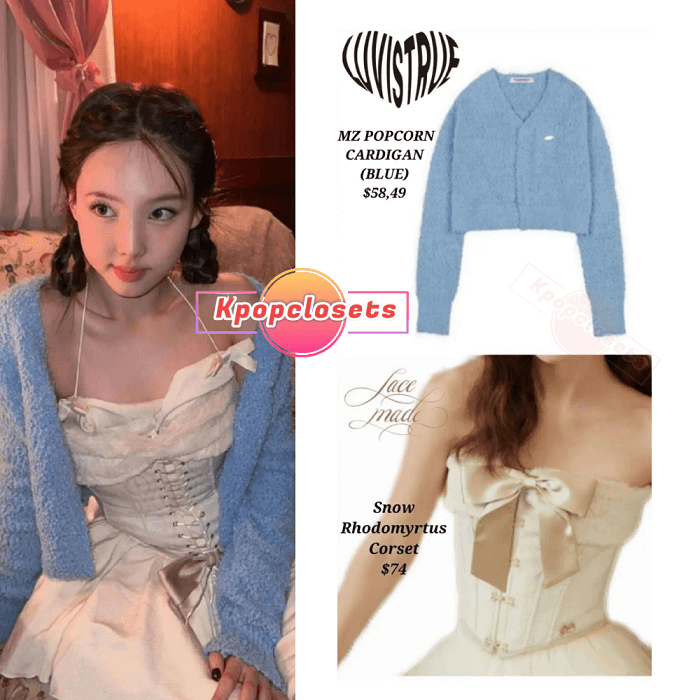 Nayeon's Look #2
Nayeon's follow-up look was absolutely photogenic when she wore a cool dark brown scythe dress outfit from KNWLS, and paired with star trail ankle boot from LV.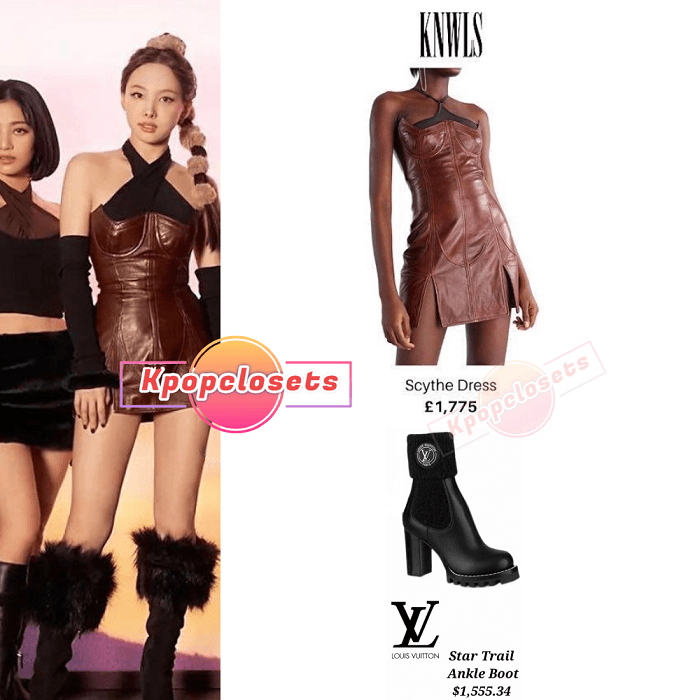 Sana's Look #1
Sana's vintage outfit showcases pulled off a gorgeours look, wear the pink bonnie party corset from lacemade.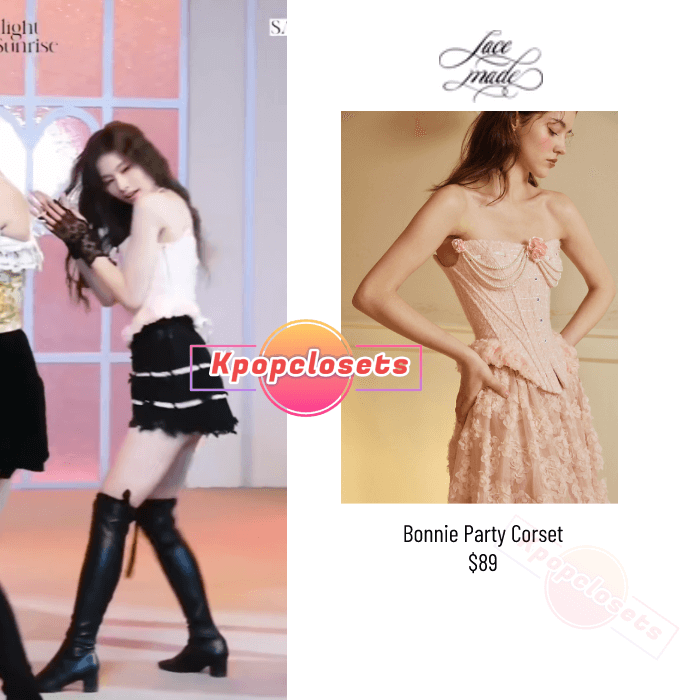 Sana's Look #2
She hands-down nailed her glamorous look using two black items, black applique tank top winter 22 look 27 from BONBOM, and black fauz-shearling mini skirt from Saint Laurent.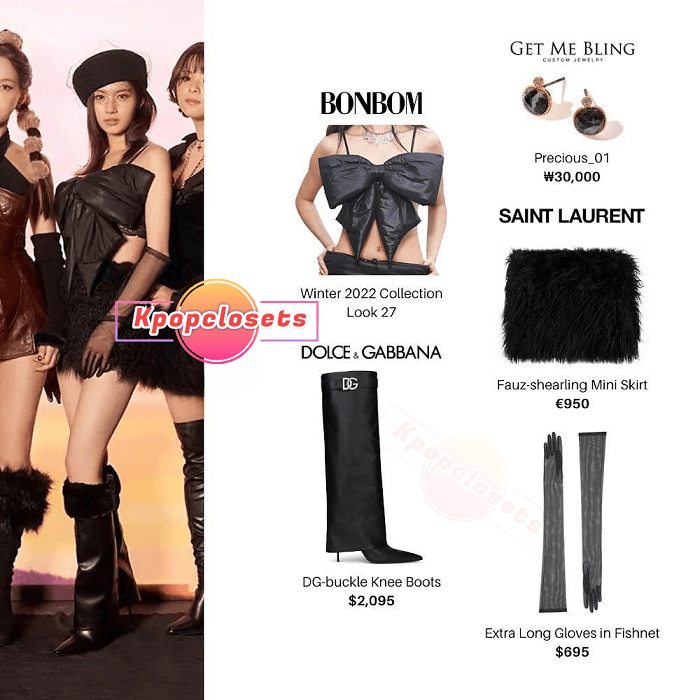 Mina's Look #1
Mina's elegant outfit consists of princes stellalou corset and princess stallalou skirt from lacemade, oozed composure and appeal.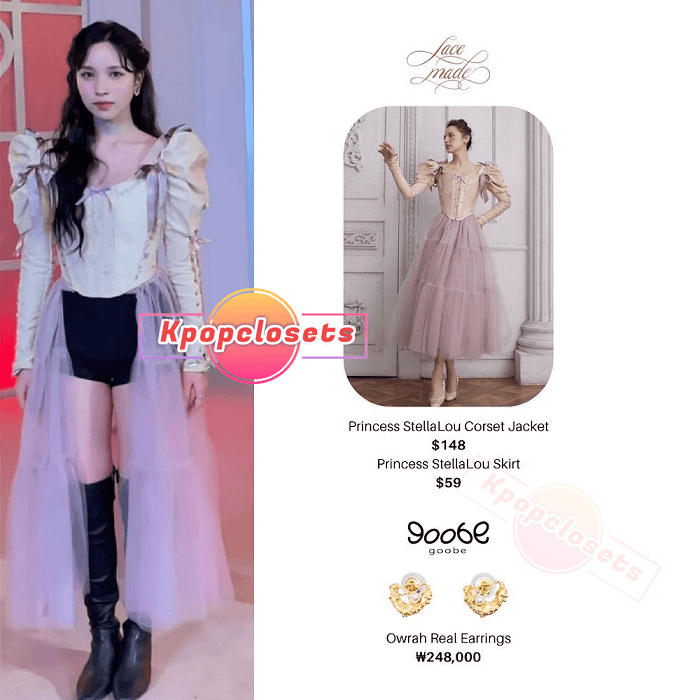 Mina's Look #2
For this dark and sensual outfit, Mina wore long sleeveless dress in shiny jersey from YSL, she absolutely fits the beautiful and graceful long dress.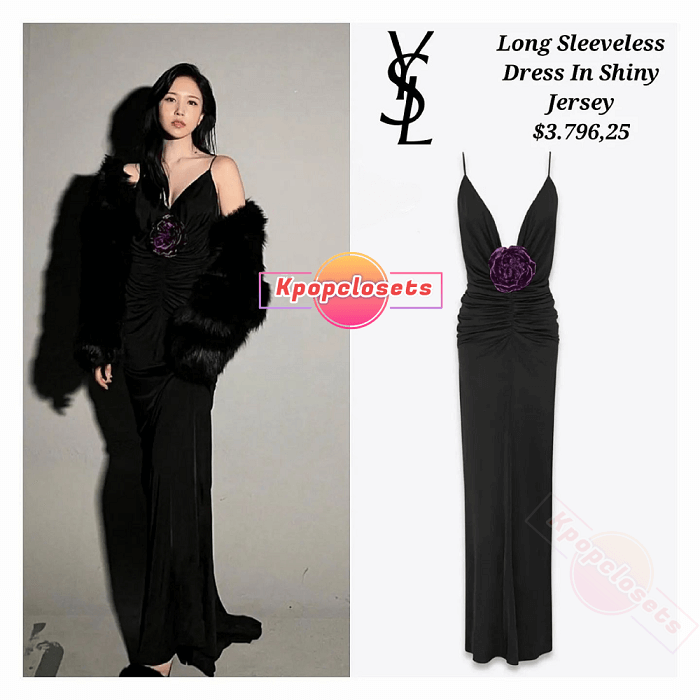 1.long sleeveless dress in shiny jersey
Tzuyu's Look #1
Her beauty was truly out of this world when she showed up wearing a castle swan corset jacket cheese from lacemade.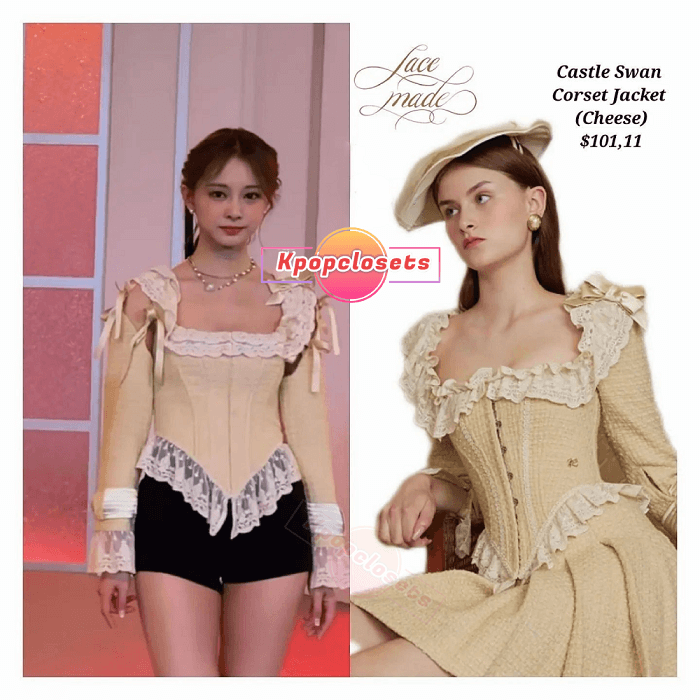 1.castle swan corset jacket cheese
Tzuyu's Look #2
Her faux fur-trimmed velvet bandeau jumpsuit from Saint Laurent is the perfect outfit for a space setting.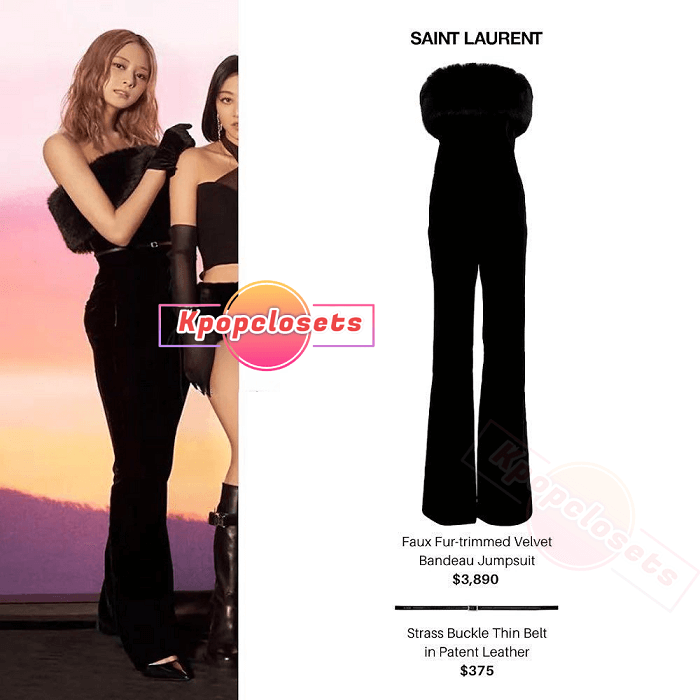 1.faux fur-trimmed velvet bandeau jumpsuit
Chaeyoung's Look #1
Chaeyoung pulled off a cute look by coupling a princess jasmine corset jacket from lacemade and 22k gold tiny ch earrings from CHROME HEART.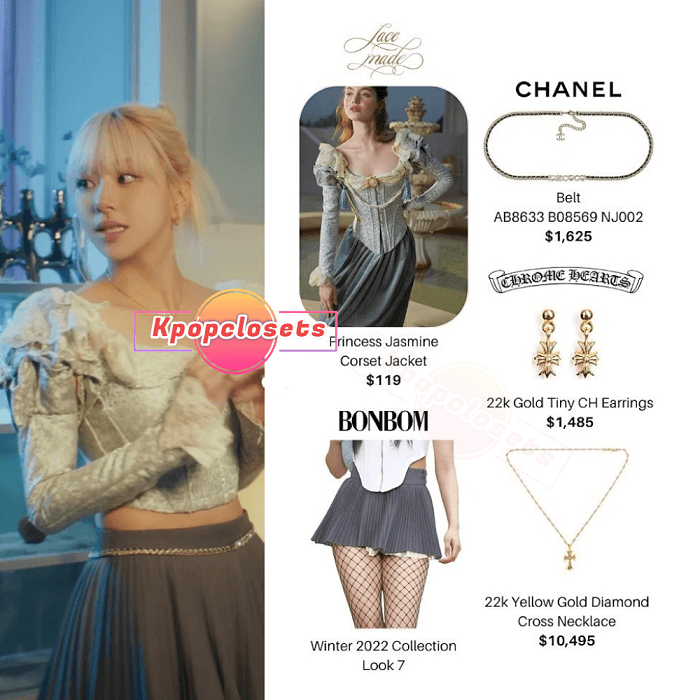 1.princess jasmine corset jacket
Chaeyoung's Look #2
For this perfect, all-black look, the blondie wore a no-sleeves black long dress fromspring 2023 ready-to-wear collection look61 from FERRAGAMO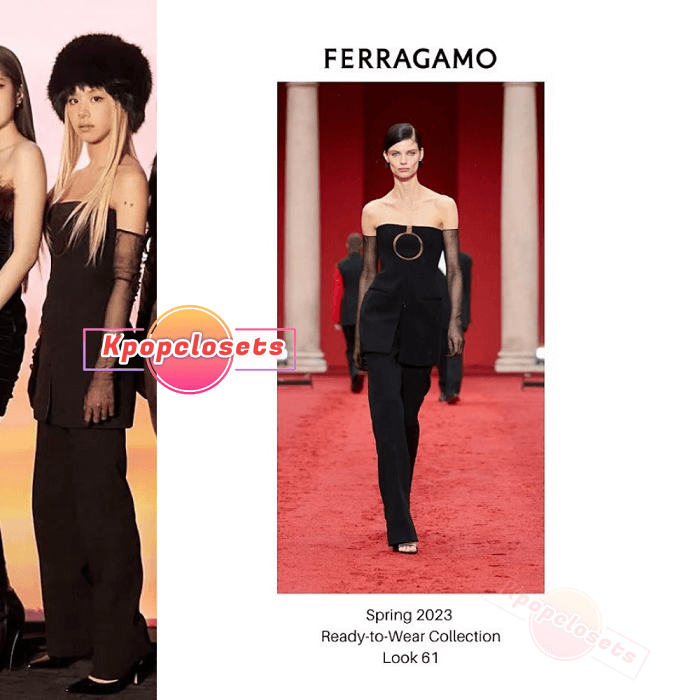 Jeongyeon's Look #1
Jeongyeon wore a van gogh corset from lacemade, and paired with a necklace from chanel for a stunningly vintage look.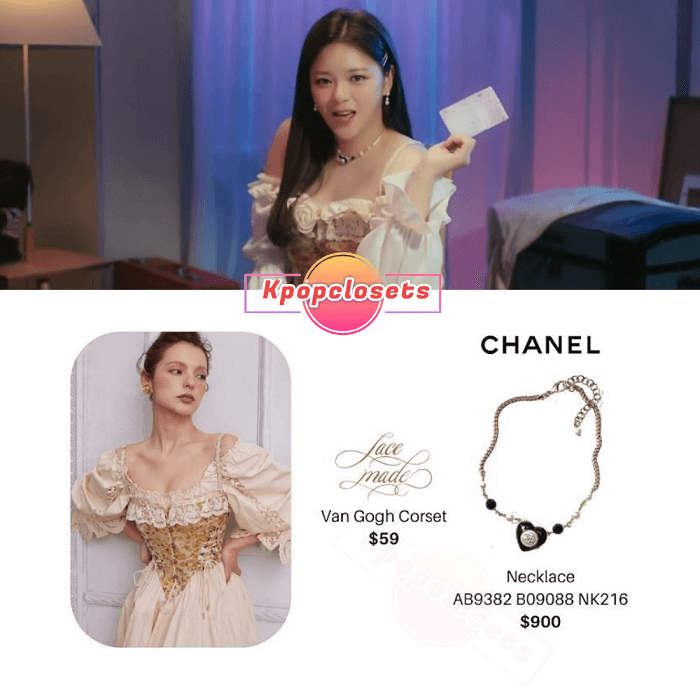 Jihyo's Look #1
Jihyo's fantastic appearance not only features a brand new chic bob cut but also showcases bonnie party corset dress from lacemade and a shearling mules from CHANNEL.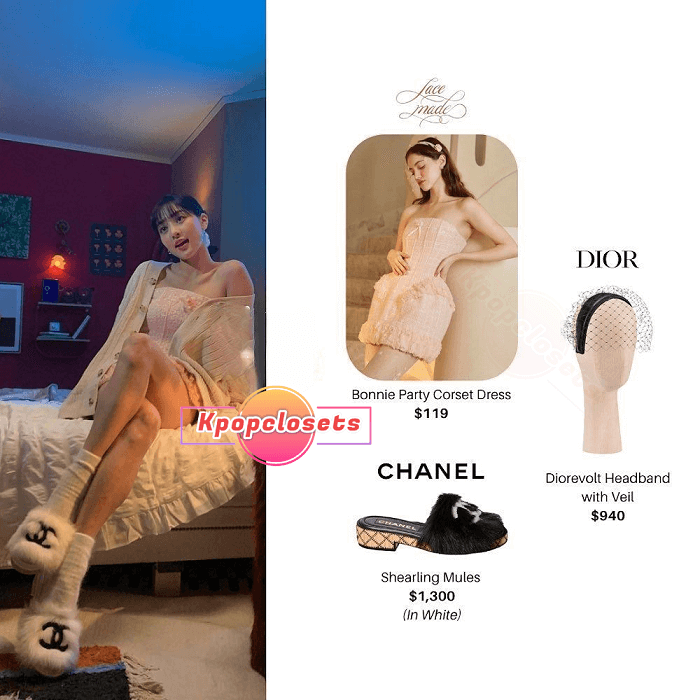 Dahyun's Look #1
Dahyun's outfit is a lace-up princess elsa dress from lacemade that looks both adventurous and ultra-modern.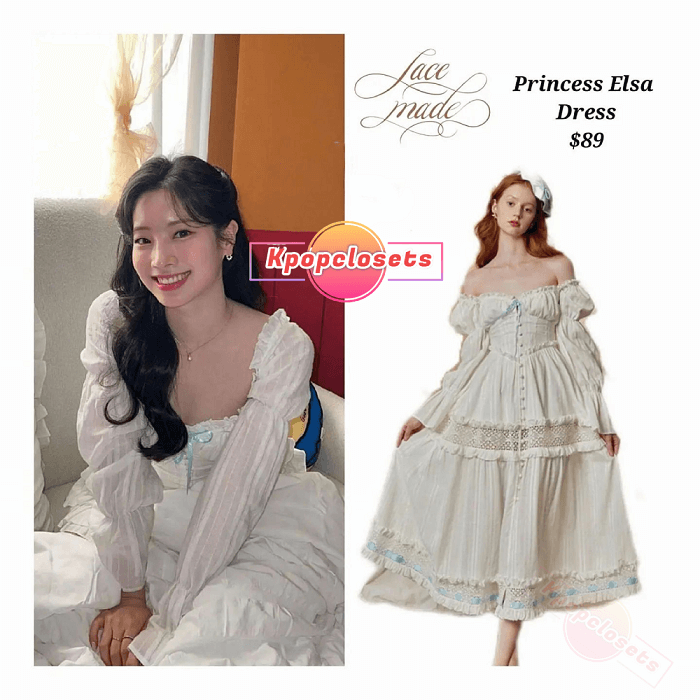 Momo's Look #1
Momo wore a lara vegan suede corset and vegan leather flared trousers, both from MISBHV  that is reminiscent of the edgy outfits seen on a sci-fi/futuristic fashion runway.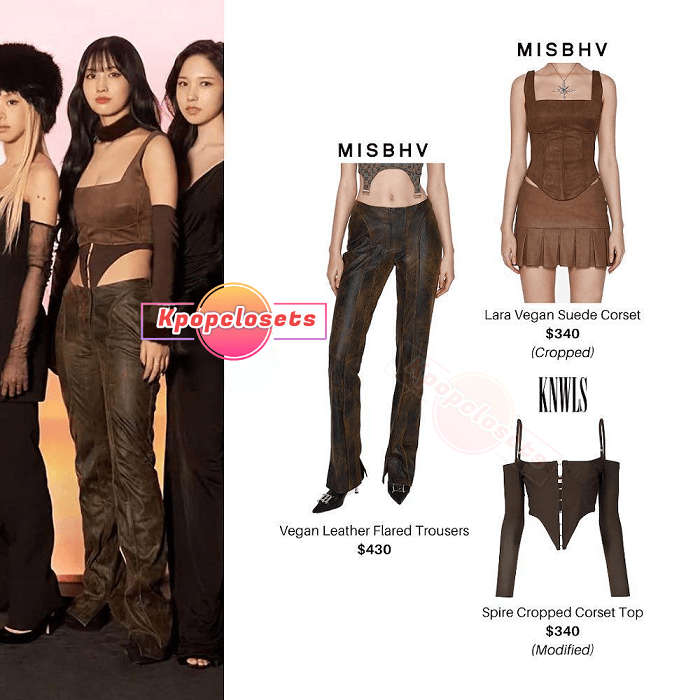 If you like this post, share it with a friend who might like it as well. And don't forget to follow our Pinterest Page for more news on Korean fashion & beauty!
Let's know more about the song!
The song compares the emotion and heartbeat you feel when you are in love to the bright moonlight (Moonlight) and the rising sun (Sunrise) atmosphere.
K-POP hit song maker earattack, Lee Woo Hyun wrote the lyrics, composed, and arranged, and Nina Ann Nelson and Kaedi Dalley, members of the American a cappella girl group Citizen Queen, participated in the lyrics and composition. The lyrics are filled with emotion, expressing the longing and bittersweetness of saying goodbye to a special someone against a night sky full of stars. The accompanying music video for "Moonlight Sunrise" is similarly beautiful and emotive, with the nine members of Twice dancing in silhouette against a starlit sky.
Composition in C major at 125 beats per minute. In an interview, Jihyo said that the song was inspired by the last concert of "TWICE 4TH WORLD TOUR III" at Banc of California Stadium: "During the tour, we performed under the moonlight, we were dancing, and the composition of this song The singer was there and he thought our performance was so beautiful, so that was the inspiration for the song.
Below were the netizen's comments on Twice English Single "MOONLIGHT SUNRISE"
skylight03 : Omg, this is such a strong English single. I love it when a song has momentum or a sense of urgency. The adlibs at the end! Twice should be proud that this is in their discography.
ozaiyu : It sounds SO good, it's so different to 'The feels', a song they had good success with as an eng single. This is gonna be in my head for days haha.
Shru_A : In love with these! This is giving 'Feel Special with a hint of dark jazz'. Can't wait for another English bop from Twice!
Chris_Singadia99 : I already let myself get deluded enough to think this is going to be a citypop song and these teaser pictures are just further reinforcing that idea.