Although these young lady groups are not well-known in Korea, their appeal abroad is growing. Even the Billboard TOP 100 is predicted to include the new tune! They made their debut in November of last year as FIFTY FIFTY. Although the small company doesn't get much attention, the tunes are excellent!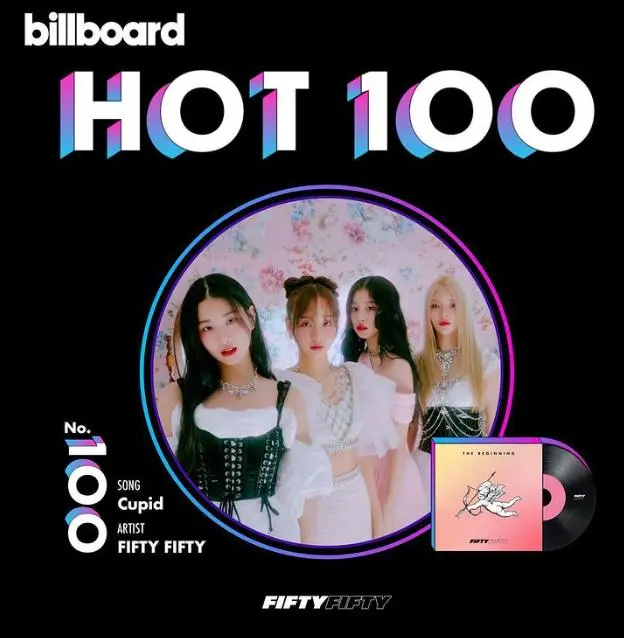 Four girls make up the female group FIFTY FIFTY, which made its debut in November of last year. They are Keena, Saena, Sio, and Aran. Only one single album and one mini-album have been released thus far. The Melon ranking is still around 1,000 as of mid-March this year, but the international results are unexpectedly strong!
Released on February 24, "Cupid" reached No. 80 on the Spotify Top Songs global chart on March 24. It also reached No. 118 on the U.S. chart and No. 12 on the Billboard "Billboard Bubbling Under Hot 100" chart. The tracks that have not yet been included in the "Billboard Hot 100" (Billboard Hot 100) are ranked on this list.
FIFTY FIFTY has no publicity advantage because it is a brand-new girl group that was introduced by a modest to medium-sized business. The online word-of-mouth of followers from all across the world helped it swiftly gain fame. Only 123 days, a new record for "Chart." The most recent girl group to do so was NewJeans, who made "Ditto" into the list 156 days after their debut.
"Cupid" was simultaneously released in English and Korean. The Korean version MV's YouTube views are getting close to 10 million. People have responded favorably to the lead singer's voice, rhythm, and melody as well as the members' look, which gives off an air of springtime brightness and breeze. Even the official YouTube account left a remark and gave it a big thumbs up, saying, "Very dreamy concept, love this song so much."
The English version is also praised as a role model by foreign internet users: "The best K-POP English version in history, it feels very natural," "This is how the English version should look, not limited to literal translation and abandoning rap," and "This is what the English version should sound like."
The promoter "ChartEssentials", who specializes in chart analytics, has just predicted that "Cupid" by FIFTY FIFTY will likely debut at No. 98 on the Billboard "Top 100 Hot List" next week!
The title songs of FIFTY FIFTY's debut mini album, "Higher" and "Loving Me," are excellent in addition to "Cupid."
#fifty fifty kpop