Blackpink's Member Lisa is leaving the country via Incheon International Airport in Jung-gu, Incheon to attend a collection show in Paris, France on the afternoon of February 8.
Blackpink Lisa Show Her Fur Funky Look in the CELINE Mens FW 2023 Fashion Show Pairs.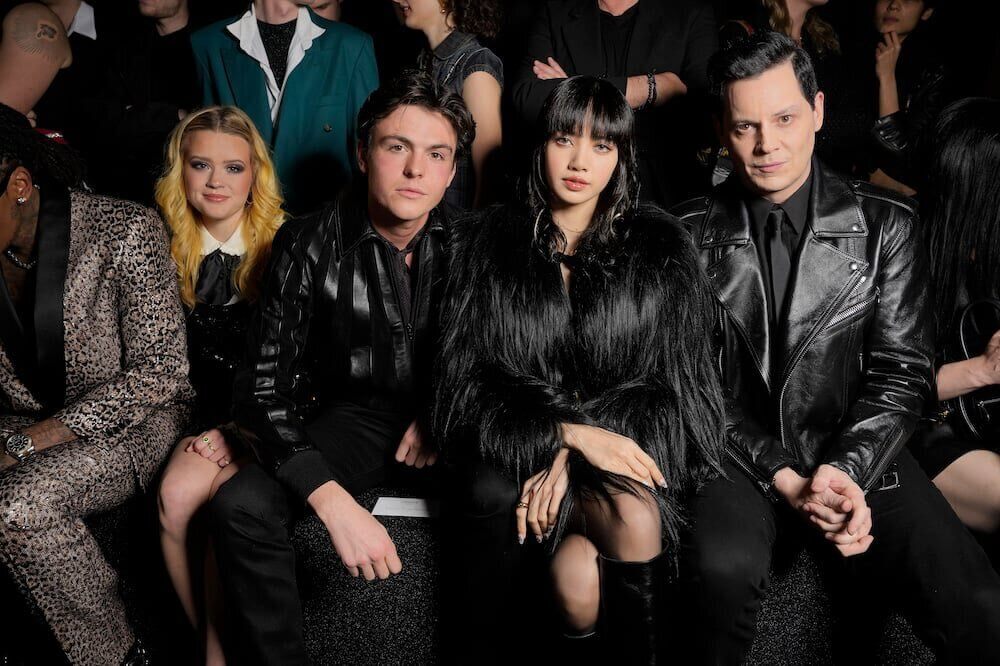 Lisa from BLACKPINK Demonstrated Her Powerful Presence at the Celine Fashion Show in Paris by Wearing Her Intense Fur Funky Style!
On February 11 in Paris, Lisa, a worldwide ambassador for the French luxury label CELINE, attended the presentation of the brand's "Winter Menswear" Collection for 2023. The show was held at Le Palace, a club that has historically created the Paris night lifestyle.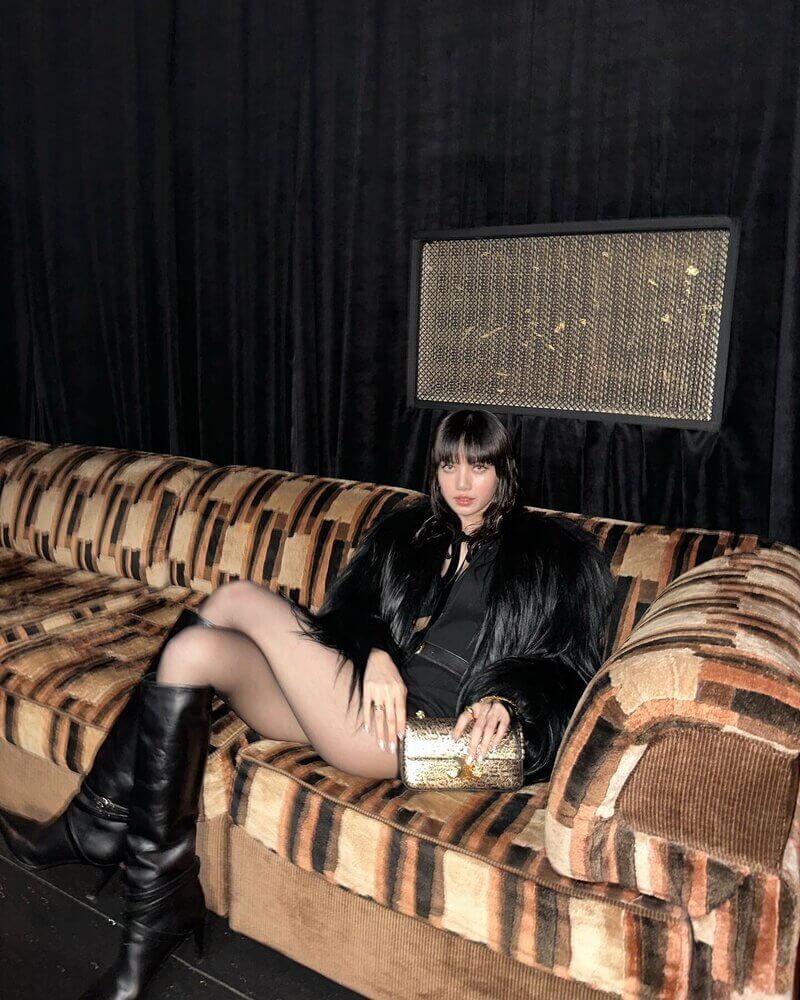 With her stylish outfits and striking appearance, Lisa has effortlessly stood out and captured many people's attention!
Do you think her outfit is interesting? Then, see Lisa from BLACKPINK wearing these striking CELINE clothes below! We collect the product link for you! Just click and buy it !
Please note: This post contains affiliate links to products we trust and recommend. If you choose to purchase a helpful product using these links, we may receive a small commission for referring you – at no extra cost to you. These funds help us keep this blog up and running.
#1 LISA's Funky Look at CELINE "Le Palace" Show in Paris
Lisa looked amazing during the event. She wore these CELINE clothes flawlessly! Her coat, belt, boots, and jumpsuit are all pieces from the fall/winter 2023 line.
She also accessorized with a MADEWELL Mesh-Trimmed Michele Bralette and CELINE pieces including a Chain Shoulder Bag with Leopard Pattern, a Triomphe Suspended Necklace in Brass, a Triomphe Huge Ring, and a Maillon Triomphe Multi Ring.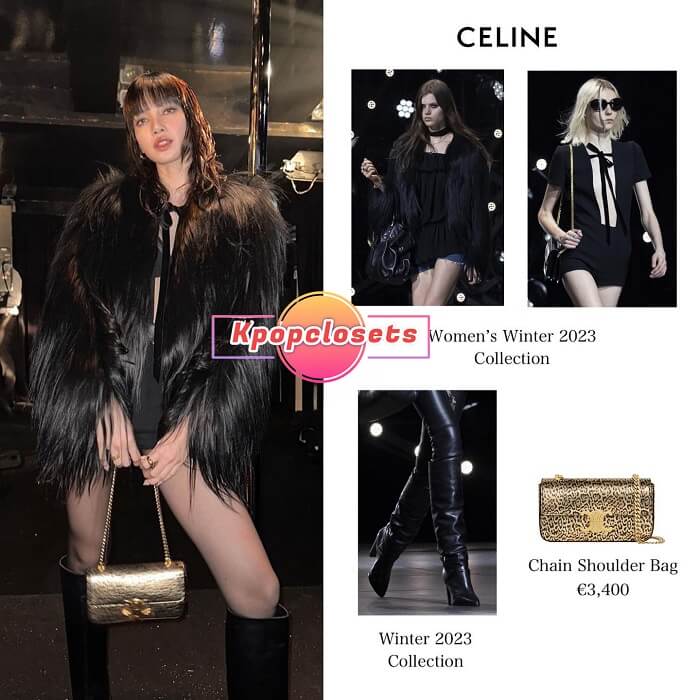 2.MADEWELL Mesh-Trimmed Michele Bralette
3.Chain Shoulder Bag With Leopard Print
4.Triomphe Suspended Necklace In Brass
#2 LISA's Outfit at Incheon Airport Pre-Arrival
Lisa has a very relaxed and preppy sense of style. She was dressed entirely in CELINE. She was now dressed in an Oversized Teddy Jacket with an inner Triomphe Turtleneck Sweater. Her bottom clothing consists of Low Flare Jeans and a Western Belt.
She wears a pair of Block Sneakers. She has a Mini 16 Bag and Gourmette Studs as her accessories.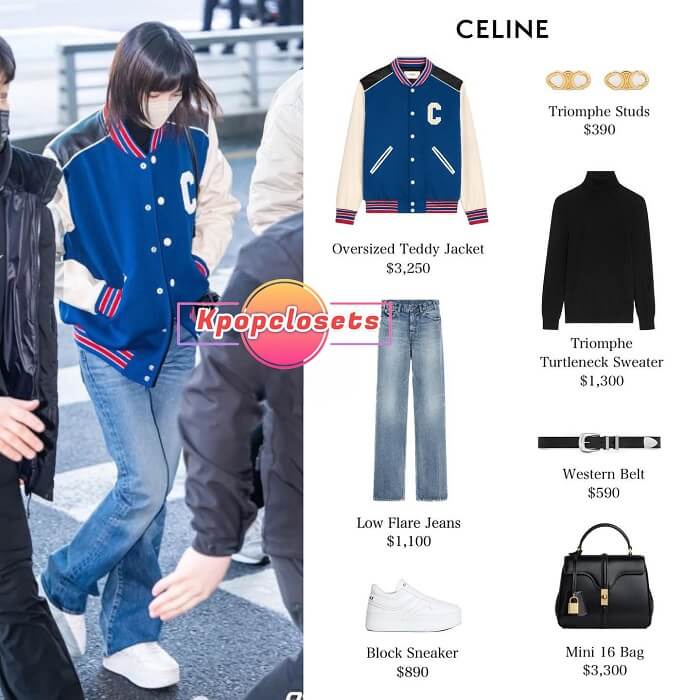 #3 LISA's Outfit at Incheon Airport Post-Arrival
Lisa wore a casual and pleasant airport outfit as she traveled home. She was dressed entirely in CELINE. She is wearing a Beanie made of Cashmere and Wool. She is wearing a Windbreaker and a Hooded Sulky Cashmere top. She wears Tixie Pants in Milled Wool for her bottoms.
She is wearing a pair of Block Sneakers. She has a Mini 16 Bag with a Passport Holder as her accessories.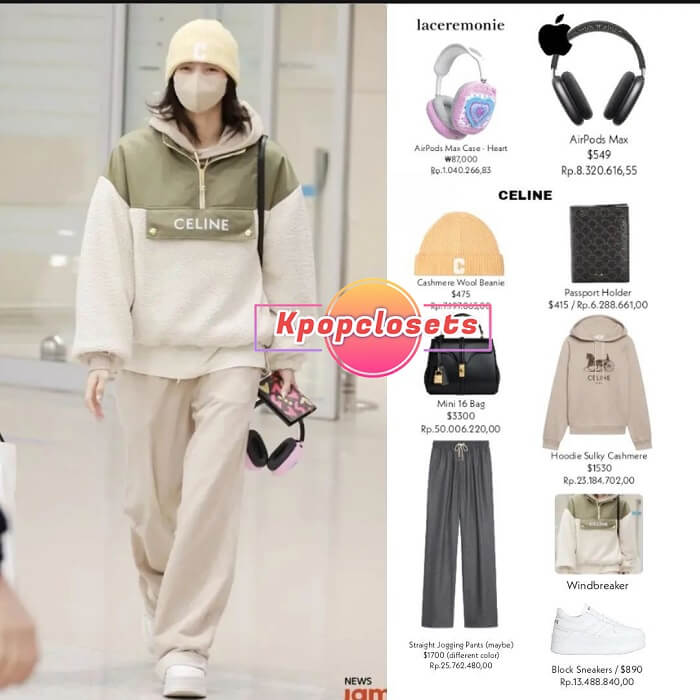 If you like this post, share it with a friend who might like it as well. And don't forget to follow our Pinterest Page for more news on Korean fashion & beauty!
New York Fashion Week 2023 is one of the most anticipated fashion events of the year. The event takes place every February in New York City and is known for being a platform for innovative design as well as established fashion labels.
For the 2023 edition, fashion aficionados can expect to see over 100 different fashion shows from around the world. Big names like Gucci, Versace, Dior and Balenciaga will be present. The designers will show off their newest collections for the season ahead, with a mash-up of classic and new styles both on and off the runway.
The event is also a great opportunity for up-and-coming designers and labels to gain traction and get noticed. With so many big and established names around, rising talent will get the chance to make a splash in the fashion industry.
As always, the week-long event is not just limited to the catwalks and presentations. Guests can also look forward to a range of events and parties, as well as special exhibitions and installations from some of the most forward-thinking and creative minds in fashion.
New York Fashion Week 2023 is sure to be a must-attend event for anyone who is a lover of fashion. With the latest trends, innovative designs and a mix of established designers and rising stars, it promises to be a spectacular event that you won't want to miss.
Yesterday, the leader of the South Korean popular girl group Blackpink, Lisa, shocked the world by participating in the Paris Fashion Week for the first time. She was invited to the Celine fashion show to walk the catwalk as a special guest.
The moment Lisa stepped into the show, the whole audience went wild with cheers. She was dressed in Celine's autumn/winter collection and looked dazzling on the runway. Everywhere she stepped, flashes of camera bulbs lit up the sky.
Along with Lisa, Naomi Campbell and Gigi Hadid were also present at the scene. They hugged each other and made waves together. Before leaving the stage, they also took some photos with their fans.
Apart from that, Lisa also held meetings with many luxury brand representatives and sponsors. She has become the ambassador of many brands, and brands have become increasingly interested in her impressive career.
Not only fashion, but Lisa has also made her mark in many other areas of the industry. She has become a famous and unique global icon.
Whether at the fashion show or behind the scenes, she continues to show her charm. With her outstanding performance, she has achieved great success in her music and dancing career. Lisa has proven that she can do anything with her hard work and her charming personality.